The International Monetary Fund has slightly raised its economic forecasts for global growth this year, on the back of a stronger-than-expected performance by the United States, China, Europe, and Japan.
However, it warns that economic outcomes are extremely uncertain – mainly because of the uncertain outlook for US policy under the Trump administration.
In its updated World Economic Outlook, the IMF says a pick-up in economic activity in the advanced economies started last summer, leading it to upgrade its forecasts for the rich countries.
Growth in China was also stronger than first thought, supported by continued policy stimulus.
But weaker-than-forecast growth in some key emerging markets, notably Latin American states Brazil and Argentina, as well as post-coup attempt Turkey (which saw a big fall in tourist revenues), have led to the IMF to leave its overall global growth estimates broadly unchanged since October.
A key driver in economic sentiment – increasing both upside and downside risk – has been the election of Donald Trump as US President, and the policy uncertainty that has brought.
The IMF says most analysts expect the Trump administration (backed by Republican control of Congress) to deliver a more expansionary fiscal policy, based on tax cuts and increased infrastructure and defence spending.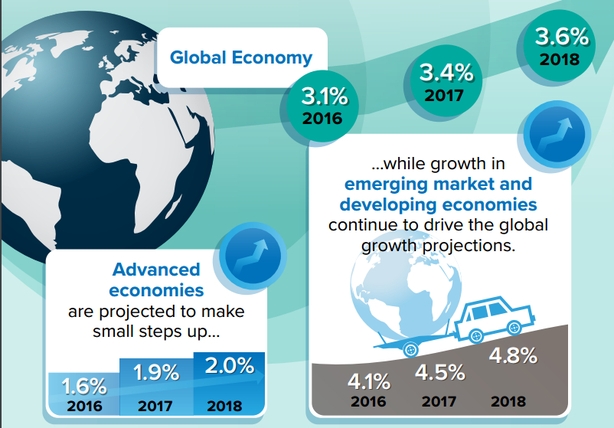 However, the IMF warns that "recent political developments highlight a fraying consensus about the benefits of cross-border economic integration".
Taking aim at Mr Trump and Brexit, and policy platforms elsewhere in Europe, the IMF warns that increased restrictions on global trade and migration "would hurt productivity and incomes, and take an immediate toll on market sentiment".
IMF Chief Economist Maurice Obstfeld said: "In light of the US economy's momentum coming into 2017, and the likely shift in policy mix, we have moderately raised our two-year projections for US growth.
"At this early stage, however, the specifics of future fiscal legislation remain unclear, as do the degree of net increase in government spending and the resulting impacts on aggregate demand, potential output, the Federal deficit, and the dollar.
"There is thus a wider than usual range of upside and downside risks to this forecast. A sustained non-inflationary growth increase, marked by higher labour force participation and significant expansion of the US capital stock and infrastructure, would allow a more moderate pace of interest rate increases in line with the Federal Reserve's price stability mandate.
"On the downside, if a fiscally-driven demand increase collides with more rigid capacity constraints, a steeper path for interest rates will be necessary to contain inflation, the dollar will appreciate sharply, real growth will be lower, budget pressure will increase, and the US current account deficit will widen.
This last scenario, one with a widening of global imbalances, intensifies the risk of protectionist measures and retaliatory responses. It would also imply a faster than expected tightening of global financial conditions, with resulting possible stress on many emerging market and some low-income economies.
The details of the US policy mix matter; and as these become clearer, we will adjust our forecast and spill-over assessment."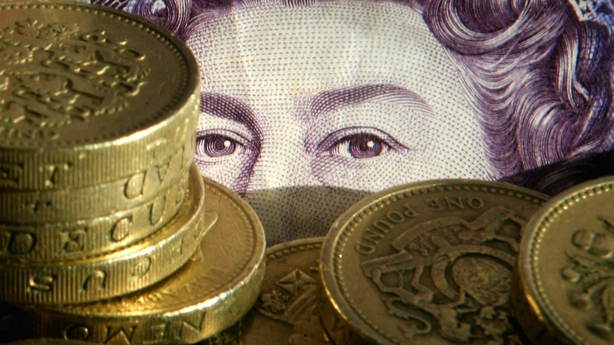 Meanwhile, the IMF has significantly raised its forecast for UK growth this year – up by 0.4% to 1.5%, on the back of a stronger-than-expected economic performance in the second half of 2016 (driven mainly by consumer spending).
However, it has marked down its estimate for 2018 by 0.3% to 1.4%, compared with its October forecast.
The IMF notes the significant market moves since the summer, including an appreciation of 6% in real effective terms by the US dollar, while the euro and the Japanese Yen have weakened.
Several emerging market currencies have been hit – notably the Mexican Peso and the Turkish Lira, while in commodity exporters, such as Russia, currencies have firmed in line with rising oil process, following the OPEC production cut agreed towards the end of last year.
The IMF says advanced economies are now set to grow at 1.9% this year and 2% next year – 0.1% and 0.2% respectively higher than the October forecast.
As well as the US, growth has been revised up for Germany, Japan, Spain and the UK, while growth in Italy and South Korea has been marked down.
The euro area is forecast to grow by 1.6% this year and next, unchanged from the last forecast.
The main source of growth is a projected pick-up in large emerging market and low income countries, which were hard hit in 2016.
Emerging market and developing economies are forecast to grow by 4.5% this year (up from 4.1% for 2016) and 4.8% in 2018.
China is forecast to grow at 6.5% this year – up 0.3% n Octobers forecast.
Overall global growth is set to increase from 3.1% last year to 3.4% this year and 3.6% next year.
It says 2016 was the weakest year for global growth since 2008.