Christmas shoppers spent €92m more in supermarkets in 2016 than they did the previous Christmas.
New figures from Kantar Worldpanel show Christmas spend was up by 3.8% year on year, with the average household spend in preparation for Christmas Day rising by €35 to €193.
Friday 23 December was the busiest day of the festive season for grocery retailers, with 55% of the population visiting supermarkets then.
Director at Kantar Worldpanel David Berry said "biscuits and chocolates did even better than usual. 
"Irish families spent 9% more on seasonal confectionery than last year, making sure they had plenty of sweet treats to keep them going over the festive period," he added.
The figures also show alcohol experienced double-digit growth in sales over the Christmas period. 
Among the grocery retailers, Supervalu came out on top after a tussle with Dunnes Stores at the end of last year, a position the retailer has held for 10 out of the past 12 periods.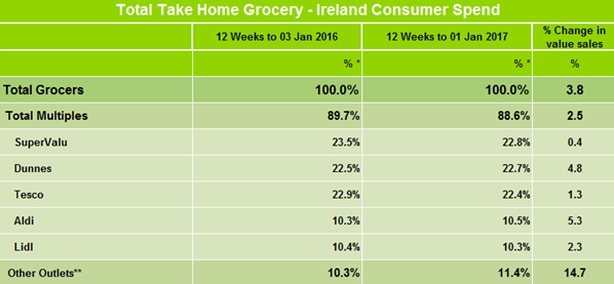 However, Mr Berry said: "Despite a return to second place, Dunnes Stores continued to perform well.
"Sales for the Christmas period were almost 5% higher than in 2015 and the average spend per trip reached a new high of €41.60, significantly ahead of any other retailer."
Meanwhile, Tesco continued to improve its performance, with sales growing by 1.3% over the final quarter – up from the 1.2% growth the grocer saw in the 12 weeks to 4 December 2016.
Premium own label was a particular bright spot for the retailer, with its Tesco Finest range experiencing strong growth over the festive period.
Aldi posted the strongest growth of all Irish supermarkets with sales up by 5.3%.
The retailer managed to attract 37,000 new shoppers this Christmas, boosting its market share to 10.5%.
Lidl also recorded positive results, with festive sales 2.3% higher than in 2015.