The government recorded a deficit of €3.1 billion (-1.6%) for the first nine months of 2016, according to latest figure from the Central Statistics Office.
This compares with a deficit of €3.2 billion for the same period in 2015.
In the first nine months of last year, government revenue increased by €911m (1.8%) on the same time frame in 2015.
The main driving factor, a 4.6% increase in taxes and social contributions, was partially offset by a reduction in investment income.
The CSO figures also show expenditure levels of government increased by €734m (1.4%) when comparing the first nine months of 2016 and 2015.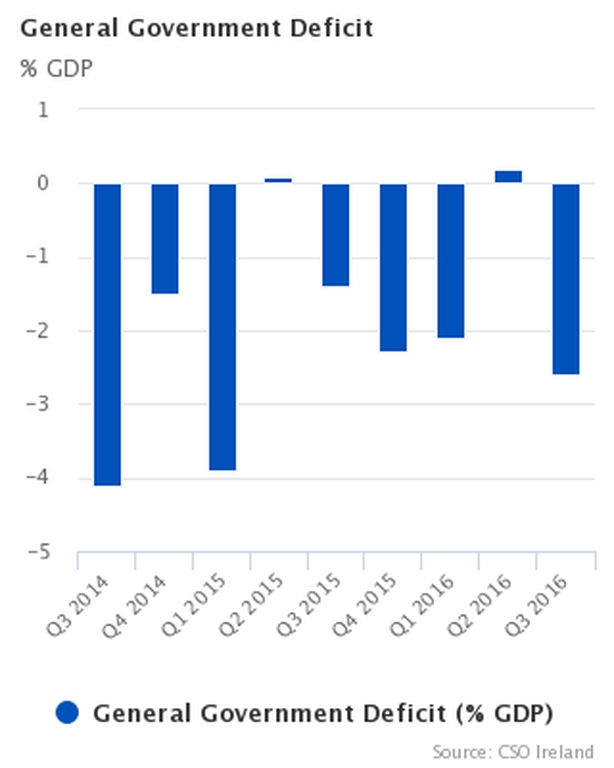 €500m in supplementary health spending announced in June accounted for the bulk of the spending increase.
Meanwhile, General Government Gross Debt (GG Debt) stood at €202.1 billion (77.1% of GDP) at the end of last September, compared with a debt level of €203.2 billion (85.6% of GDP) for Q3 2015.
The fall in the ratio was primarily due to increased GDP.
At the end of September, General Government Net Debt was €173.7 billion (66.3% of GDP) compared with €164.8 billion (69.4% of GDP) for Q3 2015.
Net debt increased due to a greater reduction in the assets held by government in EDP debt instruments than the reduction in the corresponding liabilities.