Residential property prices rose by 8.6% in the year to November, according to new data from the Central Statistics Office.
This compares with annual growth of 6.9% in October, and 4.2% in the 12 months to November 2015.
The figures show the highest rate of annual growth in November was outside of Dublin, at 12.8%.
Property prices in the West showed the greatest growth of any region, with house prices increasing by 16.7%, while the Mid-East region showed the least price growth, with house prices rising by 8.3%.
Apartment prices outside Dublin increased by 7.8% in the year to November.
Meanwhile, over the same timeframe Dublin house prices rose by 5.6%, while apartment prices in the capital were 9.6% higher.
The highest house price growth in the region was in South Dublin, at 8.3%.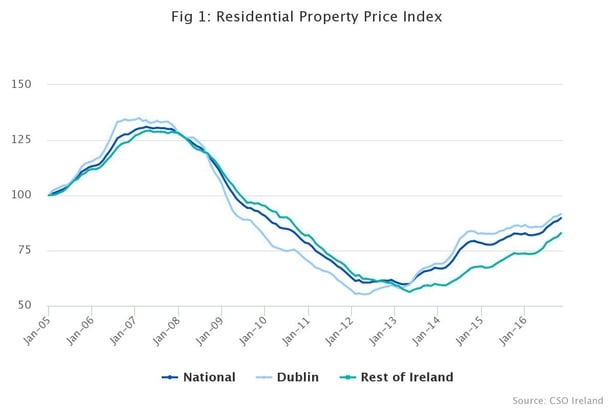 In contrast, the lowest growth was in Fingal, with house prices rising just 3.1%.
Despite the growth, the national property price index is 31.5% lower than its highest level in 2007.
Dublin residential property prices are 32.2% lower than their February 2007 peak, while residential property prices in the Rest of Ireland are 35.9% lower than their May 2007 peak.
From the trough in early 2013, prices nationally have increased by 50.3%.
In the same period, Dublin residential property prices have increased by 65.8%, while residential property prices outside of Dublin are 47.5% higher.
The CSO's Residential Property Price Index is based on Revenue stamp duty returns.
Commenting on the figures, Alan McQuaid from Merrion Economics said: "A lack of supply of houses has clearly pushed up prices, particularly in the Dublin area in the past few years, but it is not something that can be rectified overnight.
"Until this issue is addressed, prices in the capital and its outskirts will likely remain elevated, even with Brexit related risks.
"The easing of mortgage lending restrictions imposed by the Central Bank combined with the tax-incentive scheme for first-time buyers announced in the October Budget will keep upward pressure on prices until new supply comes on the market.
"The real question is whether we need this type of incentive at all, with politicians seemingly not learning their lesson from the property crash/financial crisis," he added.