Several European Central Bank governors were against any extension of the institution's mass bond-buying programme as inflation picked up in the euro zone, minutes of a December meeting showed today.
At his regular press conference after that December 8 meeting, president Mario Draghi announced that the ECB was extending its quantitative easing programme beyond the previous cutoff date of March until December 2017.
But in a nod to improved economic conditions in the euro zone, the bank said that from April it would reduce the amount of public and corporate debt it will buy each month from €80 billion to €60 billion.
Many council members agreed that "growing confidence in the overall economic performance of the euro area economy" justified the move, according to the minutes.
Mass bond-buying is designed to pump more money into the financial system and, indirectly, into the real economy, pushing up inflation towards the ECB's target of close to but below 2%.
By November, "the recovery was firming and becoming more broad-based, and the deflation risks identified earlier in the year had largely disappeared," many council members judged.
But that very success lent ammunition to hardliners on the Governing Council, the minutes said.
"A few members could not support" any extension of the asset purchase programme, which they believed "should remain a contingency instrument to be employed only as a last resort", they read.
Across the euro zone, inflation stood at 0.6% in November, the last month for which data was available at the time of the Governing Council meeting - away from the deflation danger zone seen earlier in the year.
Northern European central bank governors on the council, including German Bundesbank chief Jens Weidmann, are known to be staunch opponents of the asset-purchase scheme.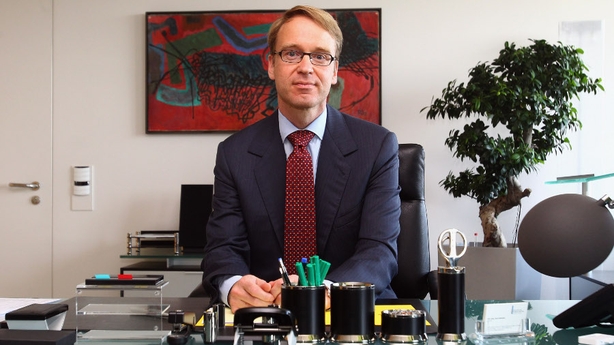 Critics have long argued that by buying government debt and driving down interest rates, the ECB has eliminated market discipline that would usually force governments to show they were putting their economic houses in order with reforms so as to be afforded low rates by lenders.
It was these "possible adverse side effects" from buying up government bonds that prompted the resistance from the Governing Council hawks.
Supporters of the ECB's policy however were encouraged by data released last week showing euro zone inflation had hit its highest level in more than three years in December, jumping to 1.1 %.
Voices in Germany, where inflation climbed to 1.7%, were immediately raised to call for the ECB to end quantitative easing and to raise record-low interest rates.