Passenger numbers at Dublin Airport increased by 11% to a record 27.9 million in 2016, according to new figures.
That surpassed the previous record set in 2015 by more than 2.8 million as the airport saw significant growth across both its short-haul and long-haul networks last year.
Short-haul traffic at the airport increased by 11% last year, with nearly 24.3 million passenger flying on short-haul flights to and from the airport.
Meanwhile, long-haul passenger numbers increased by 12% to more than 3.6 million during the year.
Nineteen new routes were introduced at the airport during the year and additional capacity was added on 31 existing services either through extra flights or the use of larger aircraft. 
Three new airlines also started operations at Dublin last year - Aegean Airlines, Cobalt, and Flyone - while KLM returned to Dublin after a 50-year absence.
2016 also saw the number of passengers transferring at Dublin increasing by 23% last year to a record 1.2 million, as the airport continued to build its position as a key gateway between Europe and North America.
It is now the fifth-largest airport in Europe for North American connectivity after Heathrow, Paris, Frankfurt and Amsterdam. 
During the peak summer season, the airport had 48 flights per day to and from 11 cities in the US and five Canadian destinations.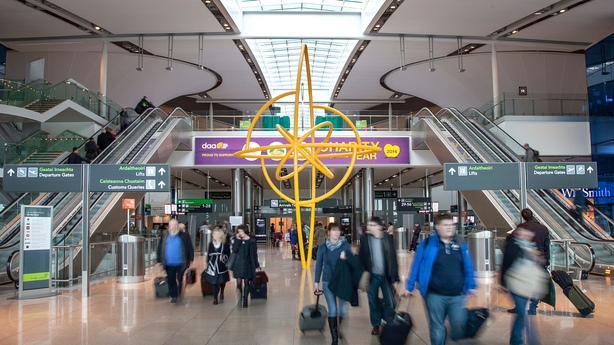 "Last year was the sixth consecutive year of traffic growth and in the period since the opening of Terminal 2 in 2010, Dublin Airport's annual traffic has increased by almost 9.5 million passengers from 18.4 million per year in 2010 to 27.9 million in 2016," commented Dublin Airport's managing director Vincent Harrison.
"The millions of extra passengers who passed through Dublin Airport in 2016 helped deliver a record year for Irish tourism," Mr Harrison said. 
"Significant additional connectivity at the airport also helps to boost business between Ireland and its trading partners and underpins increased foreign direct investment in Ireland," he added.
Figures earlier this week showed that London's Heathrow Airport saw a record 76 million passengers in 2016, up 1% on the previous year.