China is granting investors in Ireland the right to invest up to 50 billion yuan (€6.8 billion) in its capital markets, the Central Bank said today.
The People's Bank of China said that qualified Irish investors can now invest under the Renminbi Qualified Foreign Institutional Investor scheme, or RQFII.
The quota will allow Irish-based financial institutions to invest in China's domestic bond and equity markets using China's own currency, the Renminbi.
Irish financial service providers will now be able to offer this additional service to European markets.
Ireland is only the 17th jurisdiction outside of China granted an RQFII quota since the programme was launched in 2011.
Central Bank Governor Philip Lane said the decision by Chinese authorities will serve to further support the economic and financial links between Ireland and China.
"The engagement between the People's Bank of China and the Central Bank as part of this initiative also represents an important step in further strengthening bilateral financial cooperation between the two jurisdictions," Professor Lane said.
China announces 50bn yuan quota for Ireland under Renminbi Qualified Foreign Institutional Investors (RQFII) scheme https://t.co/4LuOWjVVrB

— centralbank.ie (@centralbank_ie) December 21, 2016
"Initiatives such as this further global economic integration and may therefore result in potential macroeconomic gains for the jurisdictions concerned," he added.
Commenting on the announcement, Finance Minister Michael Noonan said that the granting of a quota for Ireland aligns with the objectives of the Government's IFS2020 Strategy.
Mr Noonan said the quota improves Ireland's financial services ecosystem and increases Ireland's attractiveness for foreign direct investment.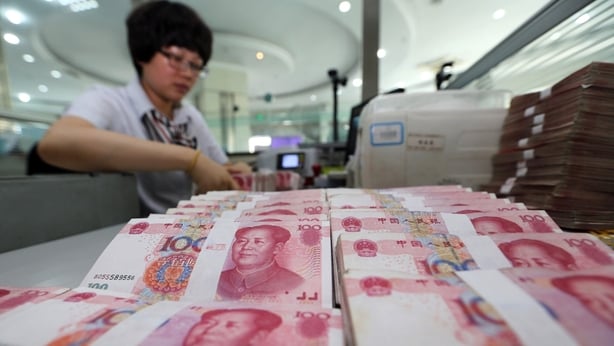 The Minister of State for Financial Services Eoghan Murphy said the granting of the quota is an important step in building closer bilateral cooperation with China in financial services.
"It will improve Ireland's funds services offering and our status as a major financial services centre. While given the uncertainty arising from the Brexit vote it has become more of an imperative for Ireland to continually improve the conditions to attract new investment and job creation in this sector," Mr Murphy said.
The People's Bank of China also said today that it was extending another 3.5 billion yuan bilateral currency swap with Iceland for an extra three years.