Over 8,000 mortgage accounts where homeowners were overcharged because they were wrongly denied low interest tracker rates by lenders have now been identified following a review initiated by the Central Bank.
An update on the Tracker Mortgage Examination provided by the Central Bank puts the total number of accounts impacted at 8,200.
The bank says it expects all homeowners affected by the issue to have been identified by the 15 lenders involved by the middle of 2017.
The Central Bank's director of consumer protection Bernard Sheridan said lenders are at different stages in the process through which they are required to stop charging the incorrect amount on a customer's mortgage, review their account and assess the redress and compensation due.
"The Central Bank continues to challenge all lenders to ensure that they identify all impacted customers in a timely manner," he said.
The Central Bank originally wrote to 15 financial institutions in Deceber 2015 to set out the parameters for the examination.
Permanent TSB was the first lender at which a significant problem was identified. The bank initially challenged through the courts a finding that it had wrongly prevented borrowers from reverting to tracker rates, rather than more expensive variable rates, after they had fixed their repayments for an agreed period of time.
In February last year it withdrew an appeal to the Supreme Court and began a redress programme.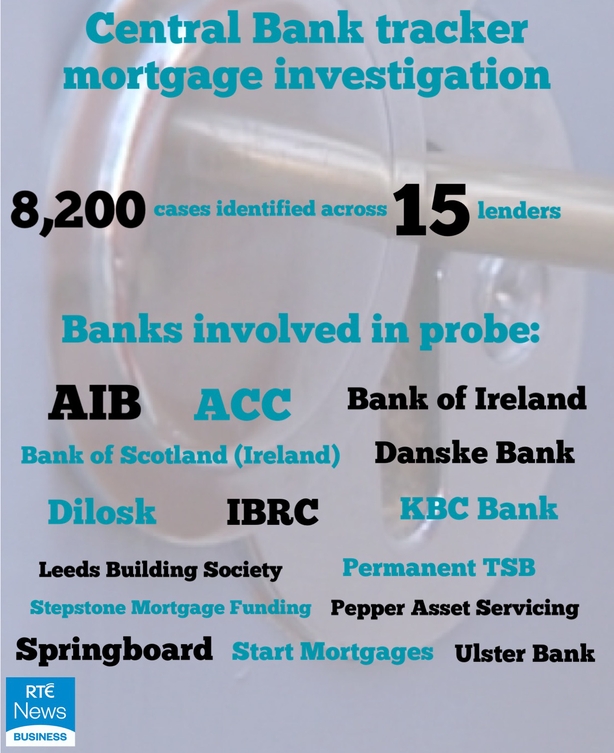 A number of PTSB customers fell into arrears on their homeloans because their repayments on the variable loans were much higher than they would have been on the cheaper tracker mortgages. Some of them ultimately lost their homes.
Since the Central Bank initiated the industry-wide review other banks including Bank of Ireland, AIB and Ulster Bank have identified thousands of customers who have also been overpaying because they were not allowed to revert, as they should have done, to tracker rates.
In total the Central Bank has called for 15 lenders to review their mortgage books. Other banks covered by the examination process include KBC, ACC, Danske Bank and Bank of Scotland (Ireland).