Residential planning permissions more than doubled between July and September when compared with the same period last year, latest figures from the Central Statistics Office show.
5,814 permissions were granted in the third quarter, representing a 115% rise on the same time frame in 2015, when 2,704 units were given approval.
 
Planning for 4,362 houses was granted during the period - an 86% increase on last year, while there was a 304.5% jump in approvals for apartments, rising from 359 in the third quarter of 2015 to 1,452 for the corresponding period this year.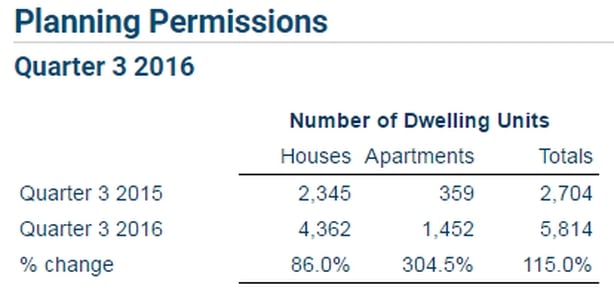 The CSO figures also show a total of 1,736,000 sq m of floor area was planned between July and September. Nearly half of this (48.7%) was for new dwellings, with 15.1% for extensions.
The amount of floor area planned in Q3 increased by 28.2% in comparison with the same quarter in 2015.