This week the Central Bank closely examined the issue of household debt in its report on financial stability.
Perhaps most illuminating was its analysis of mortgage borrowings. About €110 billion has been loaned by banks for the purchase of homes, the vast bulk of which has been extended to owner occupiers.
It said €40 billion has been borrowed by owner occupiers who are lucky enough to have trackers loans and are paying an average of 1% interest.
Those on standard variable loans have borrowed €40 billion and are paying 4%.
There are still relatively few borrowers on fixed rates. They have borrowed less than €10 billion and are paying between 3.5% and 4%.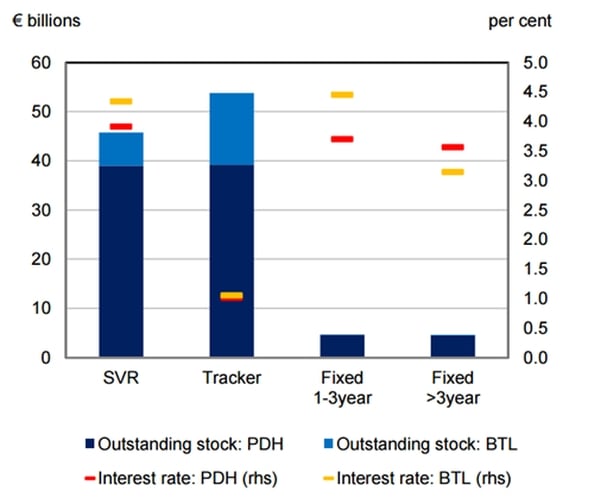 BTL = buy to let mortgage, PDH = owner occupier mortgage
In its analysis of household debt the Central Bank says: "Reflecting the current official European Central Bank rate (which is currently zero), tracker rates are particularly low at present and likely to be supporting households' debt service capability."
It means many families are only able to afford to pay their mortgages because the ECB has taken the extraordinary step of reducing rates to 0%.
But it also means that that when rates go up disposal incomes for those borrowers will shrink.
Prior to the crisis in 2008 the ECB rate was 4.25%. So what would happen to an average tracker loan if rates were to return to that level?
For a tracker mortgage customer currently on a rate of 1% with a €250,000 mortgage over 25 years that would see their repayments of €940 per month rise to €1,500 per month.
So what are the chances of that happening?
The reason the ECB cut interest rates was not to ease the burden of mortgage holders, but to ensure inflation was closer to the bank's target of 2%. It is currently 0.6%.
The bank is trying to avoid deflation or constantly falling prices, which it views as a nightmare scenario.
To stimulate inflation the ECB has been printing money by buying bonds.
But the bank has announced plans to reduce that programme next year in a sign that its controversial intervention in the market is running its course.
That could indicate the era of zero interest rates could be coming to a close.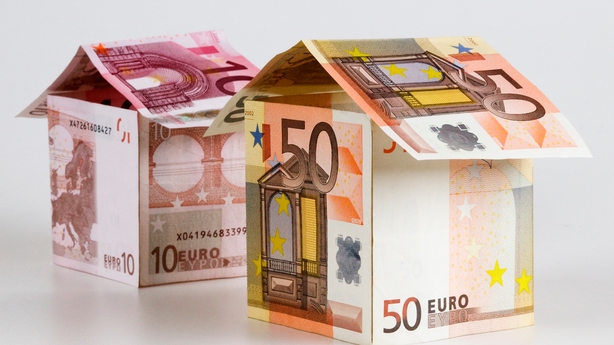 There was a further straw in the wind this week. The Federal Reserve, the central bank in the US, increased rates by 0.25% to 0.75% and it indicated it would hike rates more than expected next year.
Usually major central banks around the world track one another's movements.
However, with the rate of inflation still far below the ECB's target it would seem unlikely the bank would hike rates in 2017. But that could change in 2018.
For mortgage holders that is good news. But it is less positive for savers and those attempting to build up a pension for retirement.
The low interest rate environment means that safe investments have been delivering virtually no returns.
At some point in the future interest rates will rise.
There is little evidence that banks have thought about how they would prepare customers for a series of rate hikes.
The Central Bank says household debt in Ireland is still high by international standards.
Unsurprisingly the most heavily borrowed are in the 35-44 age bracket. According to the Central Bank they are the most vulnerable to a "future shock".
Comment via Twitter: @davidmurphyRTE