The euro has tumbled to a near 14-year low against the US dollar, a day after the US Federal Reserve lifted interest rates and signalled three more hikes for next year.
Shortly after 12pm, the single currency tanked to $1.0405, which was the lowest level since January 2003.
"Investors who were expecting the final weeks of trading before Christmas to conclude on a quiet note received a shocker on Wednesday following the firmly hawkish (Fed) meeting which sent shockwaves across the financial markets," said research analyst Lukman Otunuga at trading firm FXTM.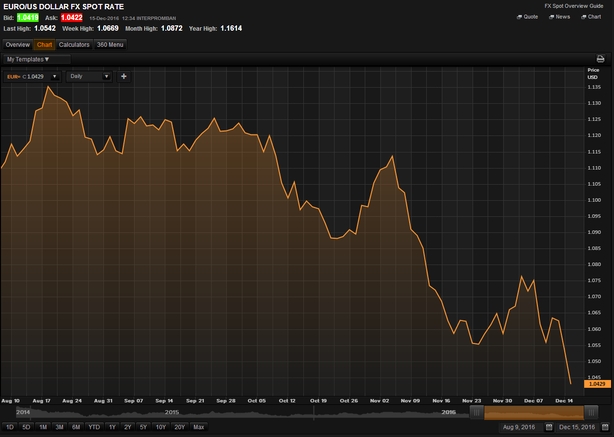 "Although it was widely expected that US interest rates would be increased by 0.25% amid stronger economic growth, the aggressive hiking path for 2017 ... sent the greenback to fresh 14-year (euro) highs," he added.
The euro is also lower today against sterling, dropping 0.25% to 83.6p shortly after 12.30pm.
The single currency has been falling steadily against the pound since it hit a 2016 high of 91.19p on 11 October.