Irish exports rose by €192m to €10.2 billion between September and October, according to latest figures from the Central Statistics Office.
Imports covering the same time frame fell by €1.09 billion to €5.18 billion, leading to a 34% increase in the trade surplus to €5.09 billion.
For the year to October, the value of goods exports was €96.91 billion – representing an increase of €3.94 billion on the first ten months of 2015.
Exports of electrical machinery, apparatus and appliances increased by €454m to €740m in October 2016 compared with October 2015, while exports of organic chemicals decreased by €420m to €2.44 billion.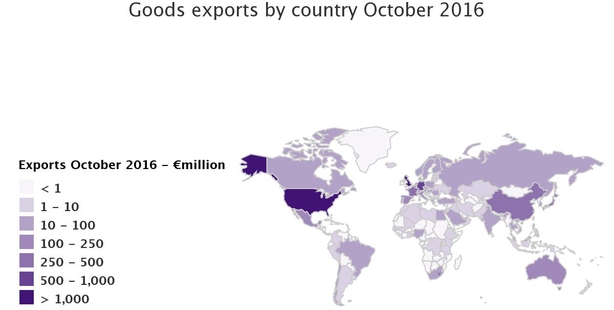 The CSO figures show that on the imports side, the value of goods for January to October was €57.34 billion, which is an increase of €415m compared with the first ten months of 2015.
Imports of medical and pharmaceutical products decreased by €111m to €465m in October, compared with October last year.
Imports of machinery specialised for particular industries decreased by €97m to €93m during the month.
The EU accounted for nearly half of all Irish exports in October, with €4.8 billion of total goods exports to the bloc during the month.
€1.33 billion went to Belgium, and €1.02 billion to Great Britain.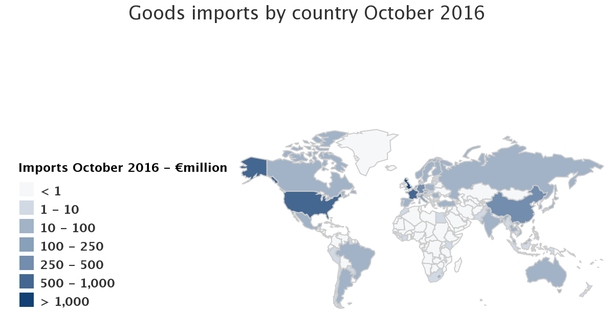 The USA was the main non-EU destination for Irish exports in October, accounting for €2.76 billion.
Meanwhile, 65% (€3.3 billion) of the value of imports in October came from the EU, with a quarter of these coming from Great Britain.