Residential property prices rose by 7.3% in the year to September, according to new figures from the Central Statistics Office.
This compares with an increase of 6.8% in the year to August and an increase of 4.2% in the 12 months to September 2015.
In Dublin, residential property prices were 5.4% higher in the year to September.
House prices in the capital increased by 5.7%, while apartments were 6% more expensive for the same period.
The highest house price growth in the region was in Dublin City, at 6.7%, while the lowest growth in Dublin was in Dún Laoghaire-Rathdown, with house prices rising just 3.5%.
Outside of Dublin, property prices were 11% higher in the year to September.
House prices outside of Dublin were 10.9% higher for the period, while apartment prices increased by 12.5%.
The midland region showed the greatest price growth, with house prices increasing 15%, with the mid-east region showing the least price growth, with house prices rising by 5.3%.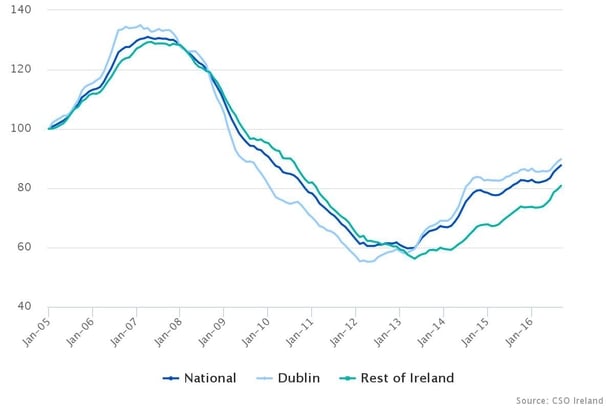 Overall, the national index is 33.1% lower than its highest level in 2007.
Dublin house prices are 33.5% lower than their February 2007 peak, while prices in the rest of the country are 37.5% lower than their May 2007 peak.
From the trough in early 2013, prices nationally have increased by 46.9%.
In the same period, Dublin property prices rose by 62.7%, while properties in the rest of Ireland increased by 43.8% from their lowest point.
Commenting on the figures, Alan McQuaid from Merrion Stockbrokers said: "A lack of supply of houses has clearly pushed up prices, particularly in the Dublin area in the past three years, but it is not something that can be rectified overnight.
"Until this issue is addressed, prices in the capital and its outskirts will likely remain elevated.
"However, tighter mortgage lending restrictions imposed by the Central Bank will help to contain house prices to some degree, and will continue to have an impact going forward.
"There are also potential negative impacts from 'Brexit'. Against that, the tax-incentive scheme for first-time buyers announced in the October Budget will keep upward pressure on prices until new supply comes on the market."