Marks & Spencer has today reaffirmed its commitment to its business in Ireland, following a comprehensive review of its 466 international stores.
M&S has 17 stores across the country and a dedicated Irish website.
"Marks & Spencer will continue to operate its profitable owned business in the Republic of Ireland, where there is strong brand awareness, an established store estate and loyal customer base," commented Alison Grainger, Head of Region in the Republic of Ireland.
Earlier, Marks & Spencer said it would shut about 30 stores in the UK and 53 in its international portfolio.
This comes as its new boss seeks to revive the retailer by focusing more on food and less on its struggling clothes and homewares ranges.
The retailer, whose shares have fallen 22% so far this year, reported an 18.6% slump in first-half profit and another fall in quarterly clothing sales.
Steve Rowe, a 26-year company veteran, took over as CEO in April and has the tough task of reviving a 132-year-old British institution that has fallen out of fashion over the last decade.
"These are tough decisions, but vital to building a future M&S that is simpler, more relevant, multi-channel and focused on delivering sustainable returns," he said.
So far, Rowe's priority has been trying to turn around M&S's underperforming clothing and homewares business.
But today he outlined how the firm will streamline its UK store estate of over 900 stores over five years and detailed a rationalisation of its international operations.

M&S plans to reposition about 25% of its UK clothing and home space, closing about 30 full line UK stores and changing around 45 stores to only sell food. Other stores would be re-located.
The cost of the programme would be £50m for the next three years, rising to about £100m in years four and five.
Expansion will focus on M&S's food business, which contributes over half of group revenue and about a third of profit. In May Rowe said M&S would add an additional 200 food shops by 2019.
M&S will also exit its loss-making owned business across 10 international markets, including France and China, at a cost of £150-200m over the coming 12 month period, thereby eliminating annual losses of £45m, leaving it with franchised stores.
All of its stores in Belgium, Estonia, Hungary, Lithuania, the Netherlands, Poland, Romania and Slovakia will also close.
But the company said in its results statement today that it will continue to operate owned businesses in the Republic of Ireland, Hong Kong and Czech Republic.
The firm currently trades from 468 overseas stores across 58 international markets, with 194 owned stores and 274 franchise stores.
Rowe has pledged to revive M&S's clothing by improving ranges and availability, cutting prices and reducing promotions.
However his plan, outlined in May, came with a warning of a short-term dent to sales and profit.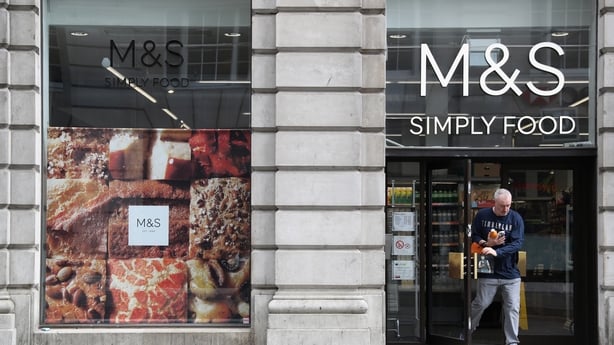 M&S reported an underlying pretax profit for its first half to October 1 of £231.1m - better than analysts' consensus forecast of £216m but down from £284m a year earlier.
Second-quarter clothing and home sales at stores open over a year fell 2.9% - ahead of analysts' average forecast of down 3.9% and an improvement on a first quarter slump of 8.9% which was its worst performance for a decade.
The company said that its second quarter like-for-like food sales fell 0.9%.
M&S said that given the recent depreciation of sterling it now expects growth in the clothing and home gross margin of between 0-50 basis points for the 2016-17 year, down from previous guidance of up 50-100 basis points.
M&S maintained its interim dividend at 6.8 pence but said it would not make an additional return of cash to shareholders in the second half due to the costs of its plan and uncertain market conditions.