The Bank of England scrapped plans to cut interest rates and said they could move in either direction as it ramped up its forecasts for growth and inflation in 2017 on sterling's slide after the Brexit vote.
The Bank of England has come under heavy political criticism for its near-zero rates.
But today it sharply adjusted its view of when Britain's economy will feel the pain of June's referendum decision to leave the European Union.
In a set of quarterly forecasts published today, it predicted less of a short-term impact but warned that Britain's access to EU markets could be "materially reduced" which would hurt growth over "a protracted period."
The bank responded to the Brexit vote by cutting interest rates to record low of 0.25% in August and restarted its massive bond-buying programme for the first time since 2012.
It also said then that another rate cut was likely this year.
But today it shifted to a neutral position as it predicted a record overshoot of inflation above its target following sterling's fall to a 31-year low against the dollar.
"There are limits to the extent to which above-target inflation can be tolerated," the Bank of England's Monetary Policy Committee said in a statement as it forecast inflation would jump to 2.7% this time next year, nearly triple its current level.
Inflation was only expected to return to 2% in 2020.
"Monetary policy can respond, in either direction, to changes in the economic outlook as they unfold to ensure a sustainable return of inflation to the 2% target," the bank stated.
The change in stance could please Prime Minister Theresa May, who said last month that the Bank of England's ultra-loose monetary policy had "bad side effects" for savers.
Bank of England Governor Mark Carney - who said on Monday that he would stay at the bank for an extra year until June 2019 - will be keen to dispel any suggestion that May's views influenced its decision when he holds a news conference later this afternoon.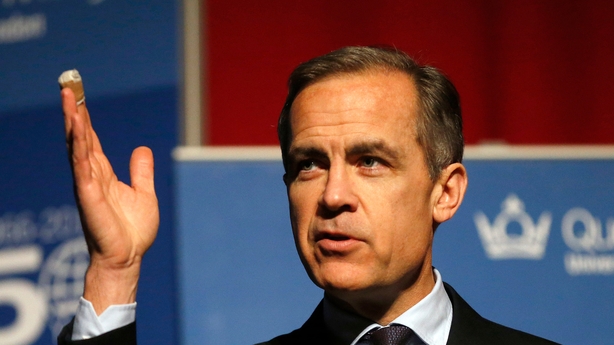 Last month he said he would not "take instruction" from politicians on how to meet the bank's inflation target.
The Bank of England policymakers voted 9-0 at their November meeting to keep rates on hold at 0.25%, in line with economists' expectations in a Reuters poll.
There was also unanimous support to stick with August's plans to buy a total £435 billion of government debt and £10 billion of corporate bonds.
Sterling hit its 31-year low against the dollar last month, shortly after May suggested she might adopt a tough approach for negotiations with the EU, potentially limiting British exports.
The Bank of England said the impact of sterling's fall on inflation "will prove temporary, and attempting to offset it fully with tighter monetary policy would be excessively costly."
However, it noted a big rise in market inflation expectations and said it would monitor this closely.
The bank also said UK consumer spending and the housing market had proven more robust than it expected in August, and this - together with a boost to exports from a weaker currency - drove it to make a record upward revision to its growth forecast for 2017 to 1.4% from 0.8%.
But in the longer term the central bank was less positive. It revised down its 2018 growth forecast to 1.5% and saw growth of 1.6% in 2019.
This implied a slower recovery and lower overall output than it expected in August.
"In part that reflects the impact of lower real income growth on household spending. It also reflects uncertainty over future trading arrangements, and the risk that UK-based firms' access to EU markets could be materially reduced," the Bank of England said.
Inflation was seen peaking at more than 2.8% in the first half of 2018 before falling slowly, the bank added.