Sentiment rose across consumer and business sectors in October, according to the latest Bank of Ireland Economic Pulse.
The index was at 94.5 last month, up 4.1 points from September.
The survey indicates the overall economic sentiment is recovering following the Brexit vote in July.
Meanwhile, the Business Pulse – which surveyed 2,000 businesses – stood at 94.9 in October, up 5.3 points on September, with three of the four key sectors rising.
Retail, services, and construction all saw increases, while the industry pulse fell last month.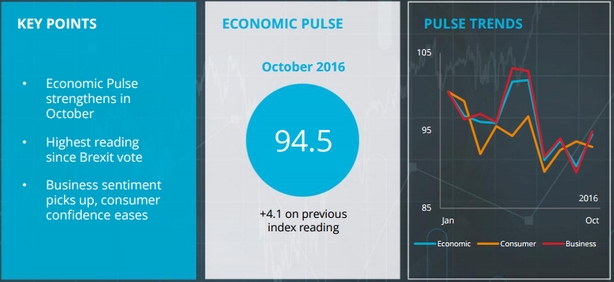 Group Chief Economist at Bank of Ireland Dr Loretta O'Sullivan said: "The October survey findings indicate that the majority of firms remain ambitious with two in three looking to expand in the next one to three years.
"On the wage front, 40% of firms in industry, 38% in services, 34% in construction and 28% in retail are planning on increasing basic pay in the coming 12 months, to the tune of 2% to 4% in the main. Overall a solid increase in business sentiment is a welcome feature of the October data".
The latest economic pulse from the lender also analysed the ability of firms to compete in EU markets.
The results point to a general softening in competitiveness over the course of 2016, particularly for businesses selling into EU markets.
For these markets, the balance between those reporting an improvement in their competitive position and those reporting a loss has declined considerably and in the case of industry, turned negative in the second half of the year.