There is likely to be a significant flight of financial activity out of Britain if companies are no longer regulated on equivalent terms to those in the European Union after Brexit.
This is according to Central Bank Governor Professor Philip Lane. 
Many of the world's major banks have European headquarters in Britain.
But they face significant uncertainty over the country's future relationship with the EU after its vote to leave the 28-member bloc in June. 
Their long-term prospects hinge on what happens to Britain's access to the EU's "passporting" arrangement, which allows businesses regulated in member states to sell financial services across Europe. 
Some banks are already preparing to move part of their operations as early as next year, fearing that Britain is heading for a so-called hard Brexit in which it would lose access to the European single market. 
"If the UK-EU negotiations deliver an agreement that effectively preserves the single passport for UK-resident entities selling into the EU, the net impact on the structure of the European financial system might be quite minor," Professor Lane said at a Reuters Newsmaker event.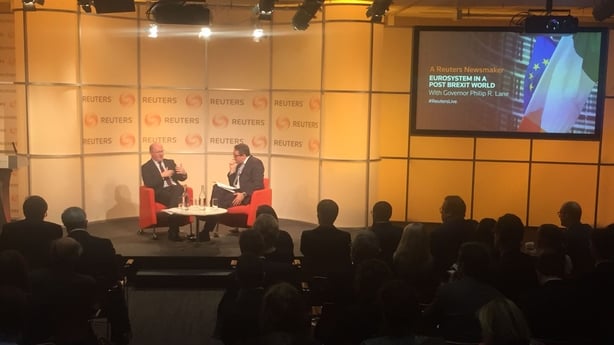 "However, in scenarios in which UK-resident firms are no longer treated as equivalent to EU firms for regulatory purposes, it is likely that significant migration of financial activity from the UK to the EU will occur," he added.
The Central Bank Governor is also a member of the European Central Bank council.
He said it is plausible that a larger fraction of trade in euro-denominated financial instruments would take place inside the euro zone and that non-EU banks could also look to set up subsidiaries in the EU. 
Cities around Europe are already vying for the potential new business, including financial centres in Ireland, Germany, France, the Netherlands and Luxembourg.
Professor Lane said his office has seen a spike in inquiries from financial services companies since the Brexit vote.
But he cautioned today that it is unlikely that activity will cluster in a single euro zone location because none offers a close substitute to London. 
We need your consent to load this rte-player contentWe use rte-player to manage extra content that can set cookies on your device and collect data about your activity. Please review their details and accept them to load the content.Manage Preferences
While the British economy has escaped a short-term hit since its EU referendum, as evidenced in data yesterday that showed it slowed only slightly in the three months after the vote, Professor Lane predicted that greater pain could lie ahead for Ireland's nearest neighbours. 
"The transition towards the phase of active UK-EU negotiations that will begin in spring 2017 may trigger a more substantial reassessment of post-Brexit economic prospects," he said.
He added that there would be a corresponding "major downside risk" for the closely tied Irish economy. 
Ireland is having more "substantive discussions" with firms looking to leave Britain in the wake of the UK's vote to leave the European Union, Philip Lane also said today. 
British Prime Minister Theresa May said last month that the country would trigger Article 50 of the Lisbon Treaty, which starts a two year countdown to its exit, no later than the end of March next year. 
"Now we have a date in March for the Article 50 process there are more substantive discussions," Lane said at today's Reuters Newsmaker event. 
"But it is still just discussions with many different types of entities about what might happen, as opposed to actual hardcore decisions," he added. 
Meanwhile, Professor Lane also said that the ECB will provide stimulus to the euro zone economy until the bloc's inflation rate is on the path towards its target, with March next year providing an important "staging post".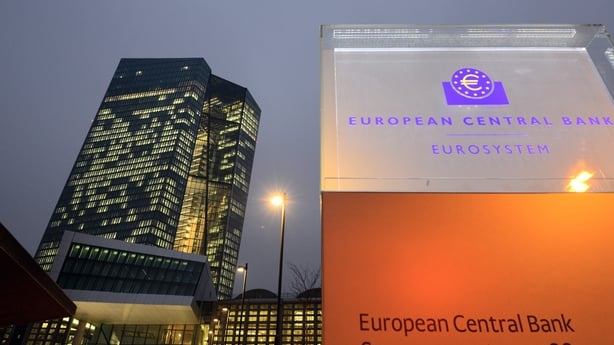 The ECB will likely decide in December, when it is presented with its quarterly macroeconomic projections, whether to continue its asset-purchase programme beyond its March 2017 deadline, and at what pace.
Recent data has shown a slight climb in inflation, but at an annualised 0.4%, it remains well below the ECB's 2% target. 
"Until inflation is at a sustainable path to the current target, the current policy of accommodation will continue," Professor Lane said at the Reuters Newsmaker event. 
"March is in some ways an intermediary staging post and we have said in December we are going to have more data and new forecasts ... and at that point ... with that information, that is going to be a delta compared to now in terms of what we could decide (to do next)," he added. 
Professor Lane said the ECB was "pretty happy" with the accommodation delivered by the central bank so far, adding that while negative interest rates may hurt bank profits, that effects of that had not been visible in the economic data. 
"For the banking sector, negative rates for those holding excess liquidity is a headache but on the other hand low interest rates are supporting the general recovery," he stated. 
Investors no longer expect the European Central Bank to cut interest rates again this year.