The construction industry will require an additional 76,000 workers over the next four years, according to a report by a team of economists.
However, there are significant concerns about the availability of workers with the necessary skills to meet the demand, according to the study by DKM economic consultants for the Construction Industry Federation.
There are currently 137,000 people directly employed in construction. However, the number of apprentices is much lower than it was during the boom.
The report says there were 4,400 apprentices across all trades in construction last year compared to 23,700 in 2007.
It says that significant numbers have left the industry or emigrated during the recession.
It adds there may not be enough people with the necessary skills coming out of training and full time education to meet the demand.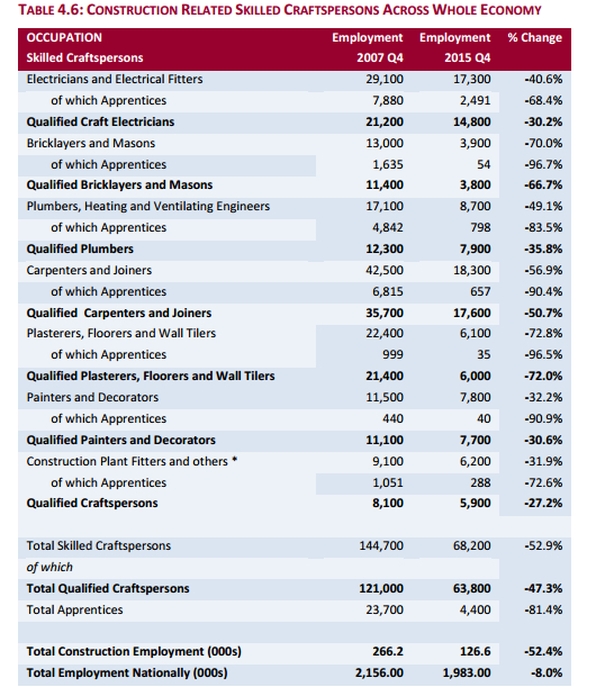 The report says a new forum should be established to address barriers in the education and training system which are blocking the delivery of qualified skilled workers.
It says the image of the industry should be improved by "inspiring young people through extensive communications on the industry's ability to shape Irish society and deliver world class projects."
It also recommends an international recruitment drive to target the Irish diaspora to attract skilled workers back to Ireland.
It says the Government and the construction industry should work with the state training agency Solas and Educational and Training Boards to deliver courses to take people off the Live Register.
The study says the potential housing requirement could be as high as 42,000 units a year. But it predicts much lower levels will actually be built.
Only 14,000 homes will be built this year, increasing to 20,000 in 2018 and 32,500 by 2020.