Latest Central Statistics Office figures show the value of Irish exports rose by €1.4 billion (+16%) to €10.2 billion in August, when compared with the previous month.
Imports for the month fell by €94m (-2%) to €5.3 billion, resulting in a €1.49 billion (+43%) increase in the country's trade surplus – which now stands at €4.9 billion and is the highest on record.
In unadjusted terms, the value of exports in August was 17% higher than the same month last year, at just above €10 billion.
For the year to August, the total value of exports stood at €76 billion, a rise of 5% on the same period in 2015, while exports were down €1.3 billion to €43.5 billion for the same period.
Exports of organic chemicals (+66% to €2.46 billion), medical and pharmaceutical products (+10% to €2.77 billion), and electrical machinery (+192% to €573m) all saw significant rises in August, when compared with the same month a year ago.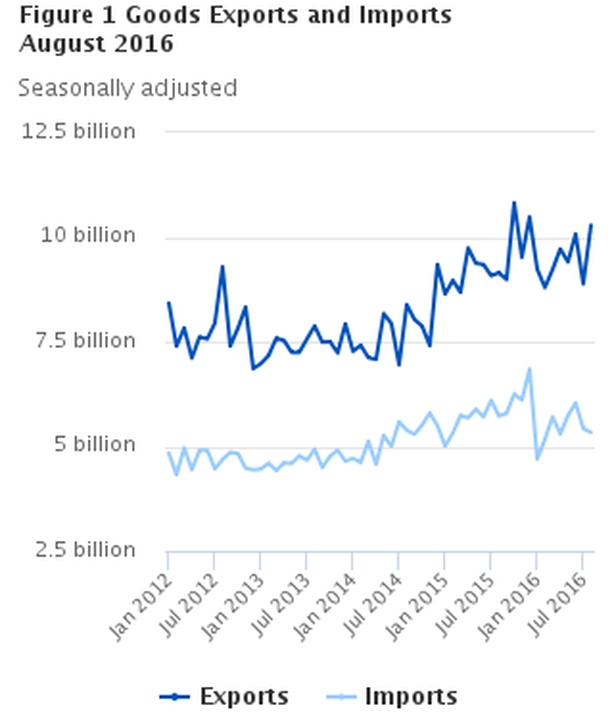 Meanwhile, industrial machinery imports dropped 54% to €83m.
According to the CSO, the European Union accounted for over half (€5.12 billion) of Irish exports in August, of which €1.58 billion went to Belgium, and just over €1 billion to Great Britain.
The USA was the main non-EU destination, accounting for €2.5 billion (25%) of total exports during the month.
On the source of Irish imports, 59% came from the EU in August.
Commenting on the figures, Alan McQuaid from Merrion Economics said: "One can only speculate as to how Brexit will impact Ireland in the coming months and years, but there is likely to be a negative impact on trade.
"The UK is the second-largest single country for Ireland's goods and the largest for its services.
"At the same time, Ireland imports 30% of its goods from the UK. While the UK might only account for 16-17% of Ireland's total exports, 30% of all employment is in sectors which are heavily related to UK exports."