New figures from the Central Statistics Office show that consumer prices were unchanged in September of this year compared to the same time last year.
Higher motor and health insurance premiums as well as more expensive eating out prices and education costs were offset by falls in the price of petrol and diesel, cheaper electricity and gas prices and lower mortgage interest rate repayments in September.
The CSO noted that motor insurance jumped by 24.8% in September compared to the same time last year, although that was lower than the increases seen in July and August.
Today's figures also show that consumer prices fell by 0.4% in September compared to August.
The annual inflation rate had hit its highest level in three years in July, when prices rose 0.5%, but prices then fell 0.1% in the year to August.
On a monthly basis, today's CSO figures show that transport costs fell by 2.6%.
Prices for clothing and footwear rose by 3.3% and housing, water, electricity, gas and other fuel prices increased by 0.8% on the back of higher rents and dearer home heating oil.
The CSO figures also reveal that transport costs fell by 3.2% in September on an annual basis on the back of lower petrol and diesel prices, a fall in car prices and lower air fares, while the price of furnishings, household equipment and routine maintenance were down 3.5%.
Housing, water, electricity, gas and other fuel prices fell due to lower mortgage interest rate payments, a fall in the price of electricity and gas, the suspension of water charges and a fall in the cost of home heating oil, which was partially offset by higher rents.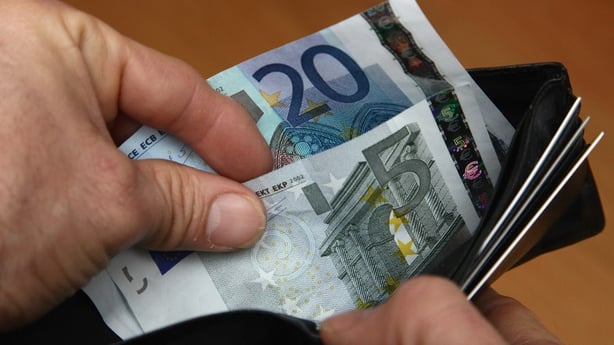 However, the cost of miscellaneous goods and services rose by 4.4% as a result of rising motor, health and home insurance premiums. Prices in hotels and restaurants were also 2.2% higher while education costs were up 3.8% due to the extra expense associated with third level education.
Commenting on today's figures, Merrion economist Alan McQuaid said that oil prices will be critical in determining the headline inflation outlook over the next 12 months or so.
"Higher oil prices, if sustained, would push up the CPI over the rest of 2016 and into 2017, but they remain volatile and that is by no means guaranteed," the economist said.
Mr McQuaid also said that the big worry on the inflation front going forward may come with wages.
"The revised economic growth numbers for last year showing GDP up over 26% in real terms and 32% in nominal terms in 2015 won't help policymakers, as more and more people will be looking for a piece of this 'super-growth pie', likely leading to over-aggressive demands on the remuneration front, which if granted, will do more damage than good in the long-run," he added.