China's September exports fell 10% from a year earlier, far worse than expected, while imports unexpectedly shrank after picking up in August.
The figures suggested that signs of steadying in the world's second-largest economy may be short-lived.
The disappointing trade figures pointed to weaker demand both at home and aboard.
They also deepened concerns over the latest depreciation in China's yuan currency, which hit a fresh six-year low against a firming dollar today.
China's exports had been expected to fall 3%, slightly worse than in August as global demand for Asian goods remains stubbornly weak despite heading into what is usually the peak year-end shopping season.
Weaker demand for Chinese goods was seen in nearly all of its major markets in the US, Europe and much of Asia.
Imports shrank 1.9%, dashing hopes for a second rise in a row. Imports had unexpectedly grown 1.5% in August, the first expansion in nearly two years, on stronger demand for coal and commodities such as iron ore which are feeding a construction boom.
That left China with a trade surplus of $41.99 billion for the month, the lowest in six months, the General Administration of Customs said today. Analysts had expected it to expand slightly to $53 billion.
The weaker trade readings could raise concerns about the other September data and third-quarter GDP over the coming week.
Economists had expected that data to show the economy was stabilising and perhaps even slowly picking up.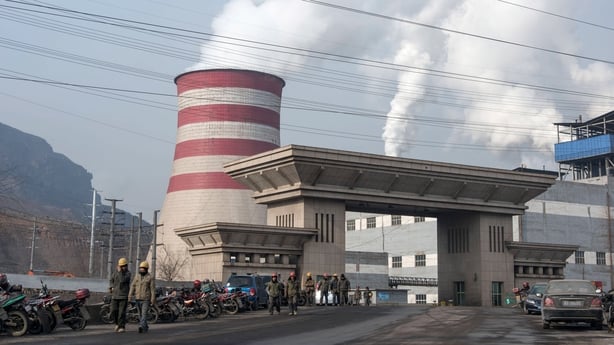 Last month, the World Trade Organisation cut its forecast for global trade growth this year by more than a third to 1.7%, reflecting a slowdown in China and falling levels of imports into the US.
Today's figures show that China's imports of crude oil rose 18% on-year to a daily record, while iron ore purchases surged to the second highest on record, suggesting its demand for global commodities is hardly falling off a cliff.
Steel mills, in particular, appear to be running hot to meet demand from a housing boom and government infrastructure projects, which are driving higher profits.
But copper, coal and soybean imports all fell from August.
A Customs spokesperson said that rising imports of oil and other commodities showed demand is improving, adding that the government's trade policies is having positive effects.
After a rough start to the year, China's economy has shown signs of steadying thanks largely to the building boom, but some analysts warn the housing frenzy may be peaking as more cities impose restrictions on home buying to keep prices from overheating.
Data have also highlighted growing imbalances in China's economy, with growth increasingly reliant on government spending as private investment falls to record lows.
Larger state firms are expanding, likely thanks to Beijing's largesse, but smaller manufacturers continue to struggle.