A disagreement with Unilever means large number of its products may not be stocked in Centra and SuperValu stores here.
The UK-based group is seeking significant price increases ranging from 10% to 19%, according to documentation seen by RTÉ News. 
Musgrave, the group which owns Centra and SuperValu, has baulked at the price increases and Unilever is refusing to honour orders from Musgrave. 
It means some retailers here may run out of Unilever stock if the disagreement is not resolved.  
"Due to our refusal to accept what we consider to be an unjustified price increase, we may experience some supply issues on certain Unilever products," Musgrave said in a statement to RTÉ News.
"Negotiations with Unilever, however, are continuing and we are examining all options open to us," the company said.
The company said that in light of the recent fall in sterling, it has been actively working with relevant suppliers to ensure that savings are passed onto consumers. 
"We would stress that this is not our desired outcome, but we do not believe a price increase on the products under discussion is justified given the current exchange rate. In fact, we believe that a price decrease is warranted given the fall in the value of sterling against the euro," Musgrave added. 
We need your consent to load this rte-player contentWe use rte-player to manage extra content that can set cookies on your device and collect data about your activity. Please review their details and accept them to load the content.Manage Preferences
It is understood Unilever also sought a price increase for its products from Dunnes Stores, which was rejected.
Supply of Unilever products in Dunnes Stores outlets is not believed to have been impacted, however.
Earlier it emerged that Britain's biggest retailer Tesco pulled Unilever goods such as Marmite from its website in a pricing row sparked by the Brexit-induced plunge in the pound.
However, Unilever has since reached an agreement with Tesco in both Ireland and the UK, where its product range is once again fully available.
In a statement, Tesco said: "We always put our customers first and we're pleased this situation has been resolved to our satisfaction."
The move is one of the most vivid signs to date of how Britain leaving the EU could hurt consumers. 
The June 23 vote took many investors and chief executives by surprise, triggering the deepest political and financial turmoil in Britain since World War Two and the biggest ever one-day fall in sterling against the dollar.
The pound is down 19% against the US currency and down 16% against the euro, forcing suppliers and retailers to battle for profits as imported goods get more expensive. Now that fight could be hitting supermarket shelves.
Separately, retailer WH Smith also said it will lose its protection against a weaker pound next year and was looking to offset the impact by consolidating factories and negotiating better prices with suppliers to cut costs. 
The battle between the two giants reflects the tensions building throughout the system, with Tesco the one retailer big enough to push back against Unilever's demands and Unilever one of the only suppliers powerful enough to stand its ground. 
Two people familiar with the situation said Unilever had been trying to raise the prices it charges Britain's big four supermarkets - Tesco, Sainsbury's, Asda and Morrisons - across a wide range of goods by about 10%. 
One said no other big consumer goods company had been as aggressive as Unilever on price demands while the second source said they had protested against Unilever's demands as some of the products were actually made in Britain. 
The sources said two of the big four were still weighing whether to accept the price rises or scrap some products.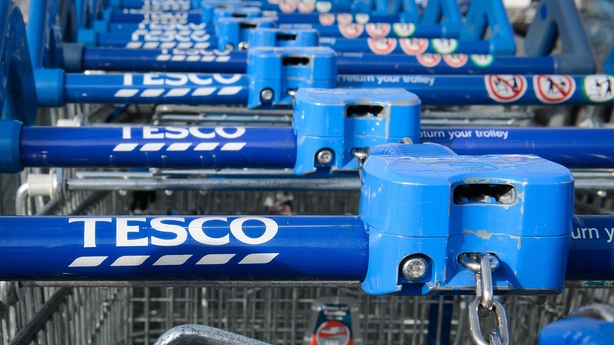 "What's really a problem is when a supplier like Unilever comes and asks for across the board cost increases and there's no negotiation, there's no discussion. That's been the approach that's upset the grocers," the second source said. 
Last week, Tesco boss Dave Lewis, a former senior Unilever executive, hailed a transformed relationship with suppliers as a major factor in the grocer reporting a 60% rise in first-half profit. 
But he indicated it was not a given that suppliers should be able to recoup the cost of the falling pound as they had not always passed on benefits when sterling was much stronger. 
Most analysts and economists believe the slump will lead to higher grocery prices, following years of deflation due to a price war between the big chains. 
A poll taken by Britain's Food and Drink Federation (FDF) between September 16 and October 7 showed three-quarters of British food manufacturers had seen an increase in the price of imported ingredients since the vote, and 63% reported a decrease in profit margin.
Meanwhile, Unilever today published its third quarter results, which showed a smaller than expected slowdown in sales.