Business activity growth slowed for the fourth consecutive month in September as Brexit uncertainty continues to impact the services sector, according to a new survey.
The latest Investec Services Purchasing Managers' Index for Ireland dropped to 56.2 in September – its lowest level since June 2013.
While some businesses have been able to secure new contracts, others mentioned reduced interest from customers, in some cases linked to the UK's decision to leave the EU.
Given this backdrop, it is unsurprising to see that the New Export Business index has weakened to a six month low.
The Investec research also shows that despite the slowdown in growth in new orders, companies continue to struggle to keep up with client demand, with the Backlogs of Work index increasing for a 40th successive month in September.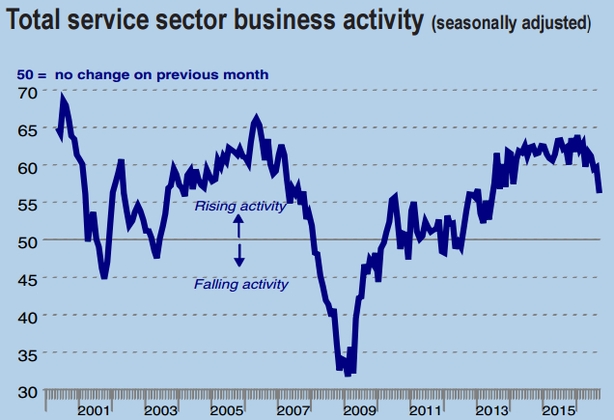 In response to this, services firms are recruiting staff, although the pace at which they are doing so has softened to the slowest since May 2013.
Meanwhile, the PMI indicates input costs have risen for businesses in the services sector – driven mainly by a rise in staff costs.
However, some firms reported that the weakness of sterling in recent months had helped to reduce the costs of items imported from the UK.
Some firms have managed to successfully increase their prices to offset higher costs, which is seen in a further improvement in the profitability index.
Commenting the latest Services PMI, Chief Economist for Ireland with Investec Philip O'Sullivan said: "Taken together, the latest Investec Manufacturing and Services PMI Ireland reports indicate a weakening in the rate of growth in activity across much of Ireland's private sector compared to what was seen in the first half of the year.
"With further uncertainty around Brexit and the US Presidential election expected between now and the year end, we are growing increasingly cautious about the prospects for Q416."
Meanwhile, preliminary figures from the CSO reveal that the value of the services sector expanded by almost 7.5% in the year to August.
The value index expanded by a 1% in the month of August itself.
The biggest increase in the month was in professional, scientific and technical activities where the value expanded by 11.4%.
The value of accommodation and food service activity declined by just over 6%.
On an annual basis, the sectors showing the greatest increases in August were Information and Communication, which was up by a fifth, and Wholesale and Retail Trade, up 11%.