Residential property prices nationally have risen by 6.7% in the year up to July, according to the latest figures from the Central Statistics Office.
The figures are contained in the CSO's new Residential Property Price Index for Ireland, which covers all home sales - including cash deals - in the property market.
The new index also measures price changes with greater accuracy as well as giving more detailed location information.
The national residential prices of 6.7% compares with an increase of 4.9% in June and an increase of 6.1% recorded in the year to July 2015.
On a monthly basis, residential prices increased by 2.5% in July compared with June.
Residential property prices are currently 34.7% lower than at their highest level in April 2007.
Today's index also reveals that first-time buyer owner-occupiers formed a decreasing proportion of the market from 2010 to 2015.
In 2010, first-time buyers represented 53.1% of all household market transactions filed. But by last year, first-time buyers' share fell to just 24.4% of the market.
The new index includes 12 new sub-indices.
Seven of these relate to regional price indices (Border, Midland, West, Mid-East, Mid-West, South-East, South-West), four relate to Dublin price indices (Dublin City, Dun Laoghaire-Rathdown, Fingal, South Dublin) and one is a price index for apartments outside of Dublin.
It shows that house prices in the Dublin City zone are leading the recovery from the national low point of March 2013 and houses in the Mid-West region have been slowest to recover to date.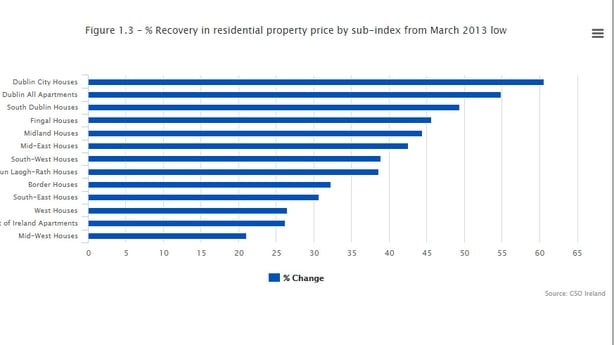 It also shows that there was considerable variation in average prices across Dublin, depending on the postal district.
With an average price of €733,006, householders paid more for a house in Dublin 6 in 2015 than for any other postal district.
The second most expensive district was Dublin 4, with an average house price of €724,535. Dublin householders paid least in Dublin 10, where the average house price was just €157,527.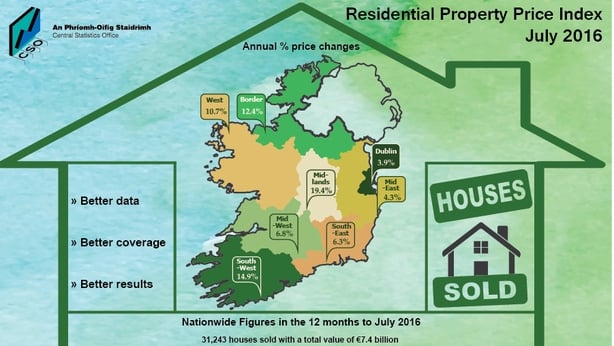 Outside of Dublin, the most expensive postal district was Greystones in Co Wicklow where the average dwelling price was €404,717, according to filings in the year to July 2016.
And the cheapest postal district was Castlerea in Co Roscommon, with an average dwelling price of €72,350.
In a statement, the CSO said that the overall price trends for the new and the original indices are similar.
However, the trough at March 2013 is lower in the new series, which the CSO said reflected better coverage of transactions outside of Dublin in particular.
The new index shows that the peak to trough fall in residential property prices was 54.4%, not 50.9% as recorded previously.
The price increase from the trough to the latest month (July 2016) is 43.2% using the new index, up from 37.4% using the original index.
The index also reveals that the national average house price in 2015 was €225,783, while cash buyers in general paid less for residential property than mortgage buyers during the years from 2010 to 2016.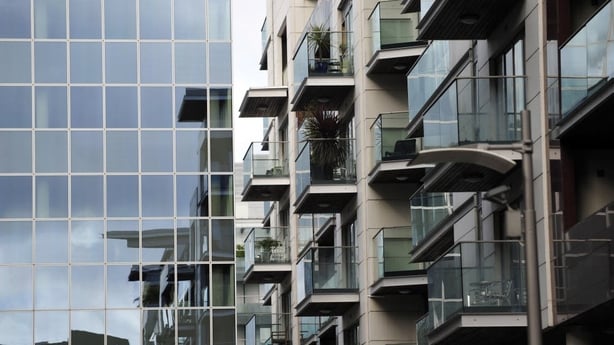 Dublin v regions
In the Dublin residential property market, prices increased by 3.8% in the 12 months to July, while they rose by 1.6% on a monthly basis.
Dublin residential prices are now 58.2% higher than their lowest level in April/May 2012, but remain 35.3% below their peak price level in 2006.
The CSO said that compared to property prices nationally, which fell 54.4% from peak to trough, Dublin prices fell further, falling 59.1% from high point to low point.
However, Dublin prices began to recover sooner and have recovered further than national prices. Currently Dublin prices are just 12.7% less than their base value in January 2005, compared to 14.5% nationally.
The figures show that Dublin house prices increased 3.9% in the 12 months to July 2016.
The recovery in Dublin house prices was initially led by price increases in Dún Laoghaire-Rathdown in 2012 and 2013. However, since late 2014 onwards, Dublin City has led the growth in house prices, while house prices in the Fingal area have been slowest to recover.
Meanwhile, the price of apartments in Dublin increased 6.4% in the year to July. Dublin apartment prices are 68.9% higher than their 2012 trough, but are 40.1% lower than their peak in February 2007.
In the year to July, residential property prices outside Dublin increased by 11.3%. On a monthly basis, they rose by 3.5% in July.
Residential property prices around the country are 40.4% higher than at the lowest point in May 2013. However, prices are still 39% lower than at their highest level in 2007.
The CSO said that house prices outside Dublin have increased 41.7% from their low point in May 2013. House prices have increased 11.2% in the 12 months to July 2016 but remain 37.5% lower than their peak level.
It also noted that apartment prices outside of Dublin have consistently under-performed relative to house prices. Apartment prices have increased 13% in the year to July but remain 53.5% lower than their peak levels.
Economist against tax rebate for first-time buyers
Daft.ie economist Ronan Lyons has said it is hard to see how a tax rebate to help first-time buyers will work.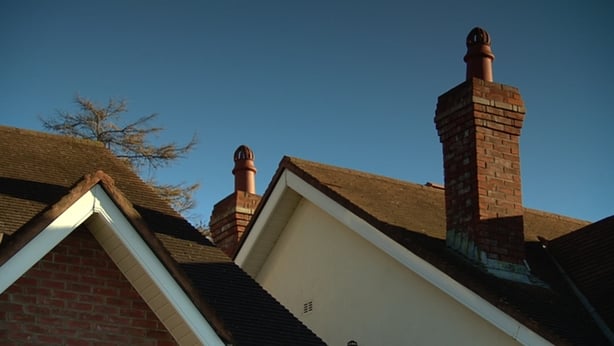 Speaking on RTÉ's Morning Ireland, he said this aid would only drive property prices up again.
Mr Lyons said if this move caused a 1% increase in prices transacted, this would be a cost of roughly €200m a year. €200m a year would, he said, directly build between 10,000 and 20,000 homes.