Central Bank Governor Philip Lane has warned that although the financial markets' response to Brexit has been "relatively limited" since the 23 June vote, the longer term impact will "play out gradually over time".
Speaking a day after the European Central Bank warned of downside risks to the euro zone, among them Brexit-related uncertainty, Mr Lane said the "fact the market response has been relatively limited does not mean to say that the effect on the UK economy and therefore on our export capacity will not be significant".
He said the activities of the Bank of England after the vote "helped to calm matters down" but an event like Brexit was "not the kind of thing that it falls off a cliff in any given month, it will play out gradually over time.
"We may well have future episodes once the UK government works out what exactly its negotiating position is, maybe again there might be some financial markets' response to that.
"I think the message on Brexit is, number one I think everyone would remain of the view that it is a medium-term negative for the UK, European, and Irish economies.
"But, number two, to get to that medium term it's a culmination of gradual effects."
We need your consent to load this rte-player contentWe use rte-player to manage extra content that can set cookies on your device and collect data about your activity. Please review their details and accept them to load the content.Manage Preferences
The Central Bank Governor added that the Irish economy is growing "fairly well" and although "we think Brexit is a significant negative effect, it doesn't dominate the many positive factors in the Irish economy".
On the ECB's corporate bond-buying programme, Mr Lane said the impact of the initiative is "still playing out.
"The consensus is what we expected then is still what we see now, and therefore the current policy remains in place."
He said: "The current policy says it will continue after March if needed. It also says that the policy rates will only pick up after the period of asset purchases is over.
"The details of what might happen after March remain to be decided."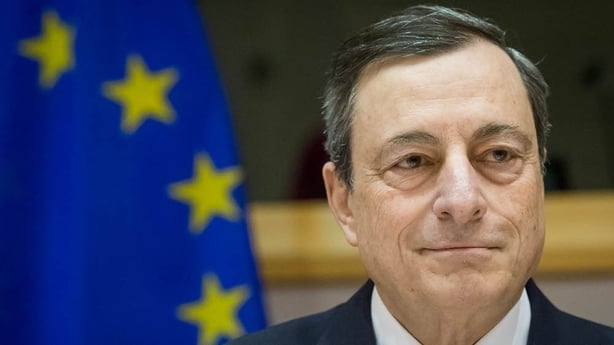 Yesterday, ECB President Mario Draghi said the bank was looking at options to ensure it could pursue its unprecedented money-printing programme, with euro zone inflation still way below its official target. 
However, Mr Draghi stopped short of confirming a specific extension of its €80 billion monthly asset purchases.