Those hoping to retire at any stage in the coming 40 years will have to save an additional €1,000 a month on average in order to have an adequate pension income, according to a new report by insurance firm Aviva.
The report on the Irish pension system by Aviva found there was a €27.8 billion gap between current pension savings and what is needed to provide people with an adequate standard of living when they retire. 
This is an increase from the €20.2 billion gap it had measured six years ago.
Aviva said that a number of factors had forced the figure upwards including longer life expectancy and lower returns on investments.
It said that while younger people have more time to bridge the gap, those in their 60s would need to increase savings by around €28,000 a year in order to do so, which may prove impossible for many.
Aviva noted that the Irish savings gap per head of population is the second largest in the eight EU countries included in the report.
The UK's gap is the highest at €13,200 and Germany's, at €11,600, ranks in third place.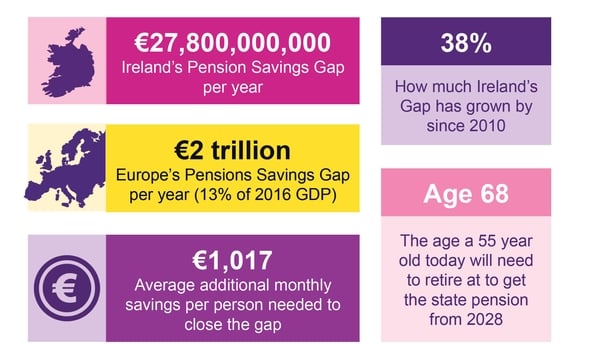 Today's report also found that while postponing the retirement age and increasing the State Pension would help reduce the gap, these efforts will be fruitless unless the decline in the numbers saving into a private pension is reversed.  
The latest CSO data show that the number of workers with pensions now stands at 46.7% compared to 51.2% in 2009. 

Aviva said it believes the answer to the problem of poor pension coverage is the introduction of a universal pension system under which all workers would automatically be enrolled in a pension scheme by their employers. 
Such a system, which was introduced in the UK in 2012, has been among the factors that contributed to a fall of 4% in that country's savings gap.
"Despite the pressure on the public finances throughout the crisis, the Government, to its credit, maintained the tax relief on pension saving. Nonetheless, pension coverage has fallen by 4.5% over the last six years," commented Gary Marshall, Managing Director of Aviva Ireland Life and Pensions.
"Our report shows that the introduction of auto-enrolment has been an important factor in the bridging the gap in the UK. We believe a similar system would have the same beneficial impact in Ireland but it needs to be introduced without any further delay," he urged.
He also added that the pensions' industry needed to work harder on building confidence in pensions.  
"Our bread and butter as an industry is encouraging people to save for retirement and we need to rebuild their trust in pensions by offering simpler products that are transparently priced and that suit their needs," he stated. 
"Our good fortune in living longer and more active lifestyles should not become a burden to us.  I believe if all stakeholders work together, we can ensure a secure retirement for all," he added.