The number of people on the Live Register fell by 0.6% between July and August on a seasonally adjusted basis, bringing the figure to 299,200 - the first time it has been below 300,000 since the end of 2008.
According to the figures from the Central Statistics Office, in unadjusted terms there were 316,296 people signing on the Live Register in August – an annual decrease of 42,780 (-11.9%).
The number of men on the register fell by 2,000 (1.1%) in August, while there was a 0.2% increase (+200) in the number of women.
Annually the drop for men was 14.3%, and 8.6% for women.
Meanwhile, the number of long-term claimants on the Live Register last month was 140,346, while 55.6% (175,950) of all claimants were short-term.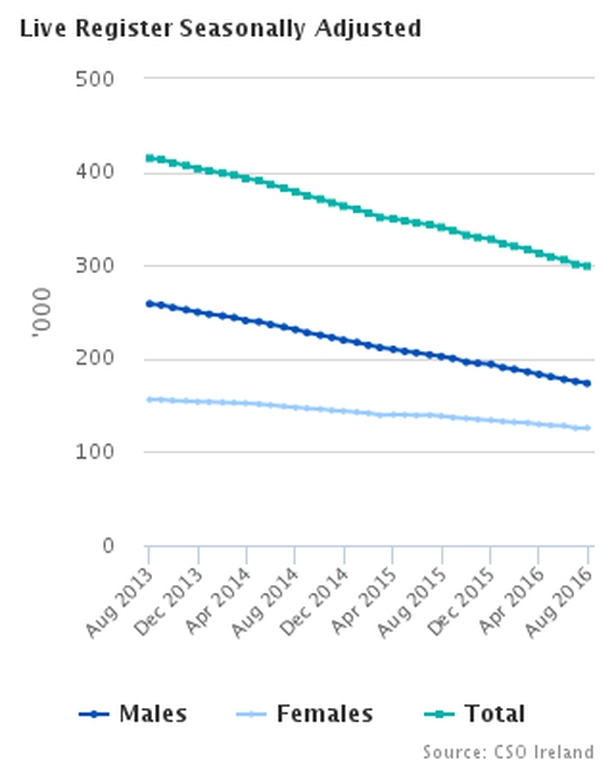 The comparable figure for August 2015 was 54.3% (194,807).
In the year to August the number of people aged under 25 on the Live Register has fallen by 20.8% or 10,357.
Yearly decreases in under 25s on the register have happened in all months since July 2010.
This age group now comprises 12.5% of the Live Register.
---
Explainer: Key terms
What is the Live Register?
The Live Register is used to provide a monthly series of the numbers of people registering for unemployment assistance or for various other statutory entitlements at local offices of the Department of Social and Family Affairs.
What is seasonal adjustment?
Specific movement with regard to figures is affected by many seasonal factors, such as: Summer peaks, one-off strikes, and short-term trading.
The aim of seasonal adjustment is to identify the regular patterns and remove them from a time series leaving only the irregular component. This process is known as filtering and makes comparisons of successive observations more reliable.