Irish households fell from being the third most indebted in the European Union to fourth during the first three months of the year.
According to the Central Bank, the 0.7% reduction to €148.5 billion was largely due to the continued reduction in household debt, as well as, further increases in disposable income.
The average amount of household debt per person in Ireland is now €31,216.
Household debt as a proportion of disposable income now stands at 149.4%, its lowest level since the end of 2004.
The net worth of Irish households increased by 0.3% during the first quarter to €628.7 billion (€132,141 per capita).
This rise was mostly driven by a €1.7 billion rise in housing asset values, as well as a further decline in household liabilities of €900m.
Irish household net worth has risen by 38.5% since 2012.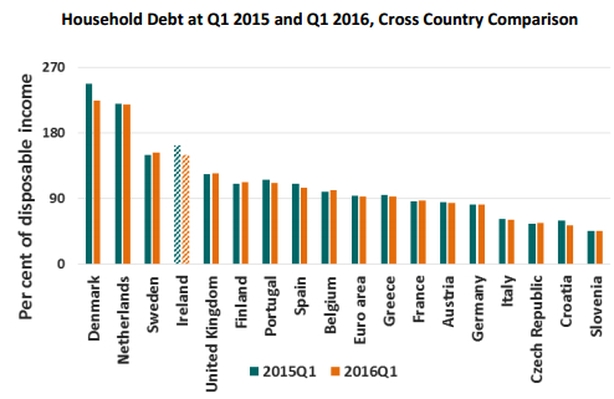 Over the year Danish household debt fell significantly more than any other country examined, declining by 23.2%, however, the country remains the most indebted of any EU member state.
Meanwhile, Swedish households saw a 4% increase over the same period as they climbed to become the third most indebted in the European Union, with a household debt level of 153.5% of disposable income.
Slovenia has the lowest level of household debt in the EU.