Nestlé, the world's biggest food company, has reported a slowdown in underlying sales growth due to pricing pressures but said it expected an improvement over the rest of the year.
The maker of Kitkat chocolate bars and Nescafé reaffirmed its full-year forecast after "organic" sales growth, adjusted for acquisitions, divestitures and currency swings, slowed to 3.5% in the first half of 2016, below the average estimate of 3.8% given in a Reuters poll of analysts.
Having missed its long-term target of 5-6% growth for three years, the company is aiming for organic growth in 2016 in line with the 4.2% seen last year and improvements in margins and underlying earnings per share at constant currencies.
In the first half sales volumes increased by 2.8% and rose just 2.7% in the second quarter, down from 3% in the first quarter.
The group pointed to a weak performance in China, where the turnaround of its Yinlu peanut milk business was taking time.
"We also expect pricing, which reached historically low levels in the first half, to recover somewhat in the coming months," Chief Executive Paul Bulcke said in a statement.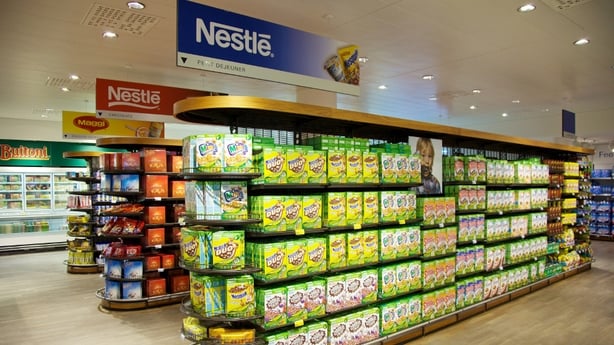 Net profit fell to 4.1 billion Swiss francs (€3.78 billion), also lagging the poll average of 4.74 billion francs, due to a one-off non-cash adjustment to deferred taxes, the group said.
But gross and trading operating profit margins improved on the back of cost savings, portfolio management, a move to premium products and input cost "tailwinds", Nestlé said.
Kepler Cheuvreux analyst Jon Cox said the results were, "a bit of a mixed bag with underlying sales worse than anticipated amid weakness in Europe and Asia although the margin was better than anticipated on the back of lower commodity costs".
Vontobel's Jean-Philippe Bertschy, who has a "buy" recommendation on the stock, said: "It seems that the new Nestle is back with a focus on margin improvement. The lower than expected real internal growth is offset by the positive margin development and record-high free cash flow."
Faced with more demanding consumers asking for fresh, healthy products, makers of packaged foods are reformulating recipes, cutting sugar, salt and fat or, a path chosen by Nestlé, seeking solace in higher-margin "premium" products and health foods.
Kraft Heinz this month reported a 4.7% drop in second-quarter net sales and said it would try to improve the quality of its products to win over increasingly health-conscious customers.
To accelerate its push into high-margin health foods, Nestlé recruited Ulf Mark Schneider from German healthcare group Fresenius as its next chief executive from 2017, its first external hire in nearly a century.