Ireland's trade surplus jumped by 22% (€826m) to €4.5 billion between May and June, according to new figures from the Central Statistics Office.
Exports for the month rose by €413m (+5%) to €9.5 billion, while imports fell €412m (-8%) to just over €5 billion.
The CSO data shows the total value of exported goods for the first six months of the year reached €55.4 billion - a 1% increase on the same period in 2015.
The June surplus was boosted by exports of medical and pharmaceutical products, which were 12% higher than the same month last year at €2.8 billion, while electrical machinery exports more than doubled to €509m.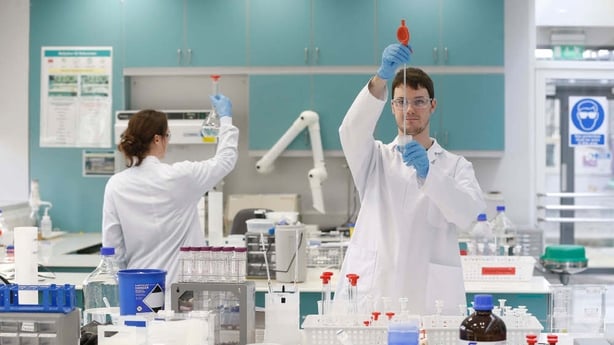 Petroleum exports were 59% lower for the first half of the year at €60m.
Despite the strong trade figures for the first half of the year, the drop in sterling against the euro in the aftermath of the UK's Brexit vote on 23 June is likely to negatively impact Irish export volumes for the remainder of 2016.
Meanwhile, the total value of imports between January and June was €31.1 billion - a drop of 8% on the corresponding period last year.
Car imports were more than a third higher at €374m and imports of organic chemicals were 25% higher at €320m, while medical and pharmaceutical imports were 25% lower at €458m over the same period.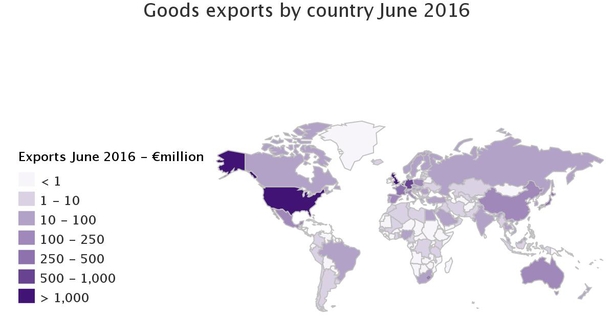 Over half of Ireland's goods exports of €9.5 billion in June went to the European Union, with Belgium accounting for €1.26 billion and Great Britain responsible for €1.09 billion.
Outside of the EU, Ireland exported €2.72 billion worth of goods to the US in June.
With regard to the origin of Irish imports during June, 62% of goods came from the EU.
€1.26 billion worth of goods were imported from Great Britain, our biggest trading partner.
Excluding EU countries, Ireland's biggest importing countries in June were the US (€671m) and China (€339m).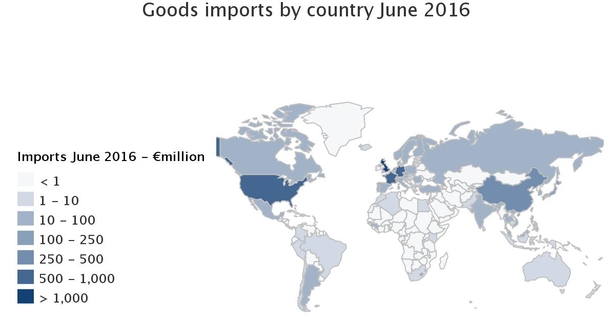 Commenting on the CSO figures, Senior Economist with Davy Conall Mac Coille said: "Today's trade figures look encouraging. Goods exports rose by 14% on the month to €10.1bn, up 2.3% on the year.
"The trade surplus rose to a record high of €5bn. However, excluding volatile pharmaceuticals, exports are up just 1.2% in H1 2016 compared with the 16% rise in 2015.
"This outcome chimes with manufacturing PMI surveys, suggesting sterling's weakness, uncertainty on Brexit and weaker global manufacturing are weighing on exports.
"So we still expect net trade to make a smaller contribution to Irish GDP growth through 2016 and 2017."