The head of one of Ireland's leading insurance companies has called for the Personal Injuries Board to be given statutory powers to address the issue of spiralling insurance claims.
FDB Group Chief Executive Fiona Muldoon said the considerable rise in the level of awards was having a detrimental effect on the cost of insurance premiums.
According to latest CSO data, the price of car insurance has increased by 38% in the past year.
Ms Muldoon made the call as her insurer recorded a loss of €3.65m for the first half of the year, which she has largely attributed to the high cost of claims.
She said there needed to be reform to tackle the rising costs of claims and price inflation in the insurance sector, and that in the absence of such reform "we believe Irish insurance customers will bear the cost of much higher premiums than those seen in other countries".
Speaking on RTÉ's Morning Ireland she said there needs to be a coherent approach to fraud and claims exaggeration.
"Rates will only fall when the costs of the awards start to fall. It needs a system-wide response.
"The issue of failing companies like Setanta and Enterprise needs to be tackled in meaningful ways.
"We need to understand we can either have cheap insurance or high court awards, but we can't have both.
"I think if we do decide to tackle them then it can be as quick as legislation can be passed to give the Personal Injuries Board increased powers and to introduce systems whereby there is protocol" to deal with the issues efficiently.
At present, the Personal Injuries Board's role is to assess claims for compensation for anyone who has been in an accident and suffered an injury, however, it does not have any statutory powers.
The self-funded organisation was set up by the government in 2004.
Read RTÉ Business Editor David Murphy's blog on the state of the motor insurance sector
FBD's €3.65m pre-tax loss for H1 compared with a €96.4m loss for same period in 2015.
However, last year's H1 loss was inflated by an €88m top-up of the company's claims reserve.
Gross premiums fell €4m, or 2%, to €181m, while there was a €10m reduction in the amount of business conducted through brokers.
During the first six months of 2016, an 11% rise in average premiums was offset by a 7% drop in the volume of policies on its books.
Reduced risk led to improved performance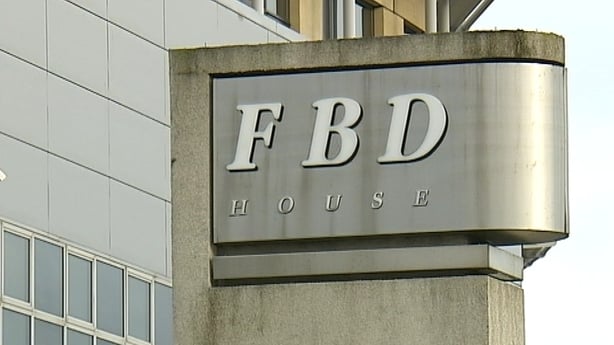 FBD's improved performance was led by reduced risk exposure and the insurer said it expected strong further progress and a return to profitability next year.  
However, the insurer said the current claims environment "continues to be challenging, with significant uncertainty still evident".
FDB also pointed to "significant volatility in relation to award levels and continued inflationary pressure on the cost of claims".
Ms Muldoon said the results "demonstrate that we are returning the business to profitability.
"There is increasing stability in our reserves with no further prior year development recorded since the strengthening that occurred one year ago." 
Ms Muldoon said the company will "remain focussed on our customer base in the Irish farm and small business sectors, backed up by a single brand consumer strategy" and will continue to serve that sector in "difficult trading circumstances".
Analysts Davy said the insurer's H1 results "show a much improved underwriting performance due to rate hardening and reduced risk exposure.
"A loss before tax for the period of €5.3m was well ahead of our forecast €10.25m loss.
"This reflected lower claims costs from relatively benign weather and reduced motor injury frequency, as well as lower expenses," it added in its assessment of FBD's results.
Shares in FBD were 11.38% higher in Dublin trade this morning at €6.85.