Residential property prices rose by 6.6% across the country in the year to June, according to latest figures from the Central Statistics Office.
This compares with an annual increase of 6.9% in May and a rise of 10.7% recorded in the 12 months to June 2015.
For the month of June on its own, the price of homes fell marginally (-0.1%) from May, the first decrease since January.
The CSO figures also show Dublin residential property prices dropped by 0.7% between May and June, but were still 4.5% higher than the same period a year ago.
House prices in the capital were 1% lower in the month and 5% higher compared to last year, while June apartment prices in Dublin were 0.5% lower than the same month in 2015.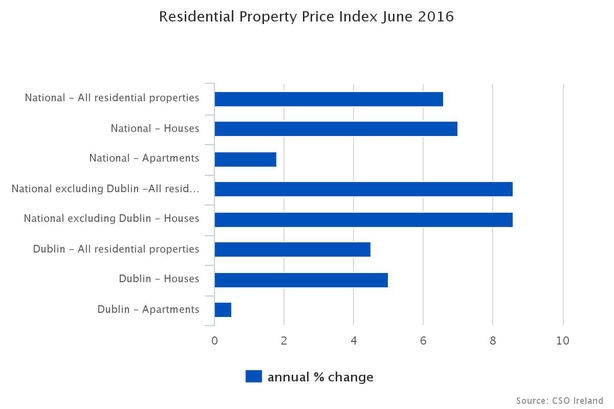 Outside of Dublin, monthly residential property prices increased by 0.5% in June, while prices were 8.6% higher than in June of last year.
House prices in Dublin are now a third (33.5%) lower than at their highest level in early 2007.
Apartments in Dublin are 41.8% lower than they were in February 2007, while residential property prices in Dublin are 35.6% lower than at their highest level in February 2007.
Meanwhile, the price of residential properties outside the capital is 35.4% lower than the highest level in September 2007.
The CSO also announced today that from September its property price data will be based mainly on Stamp Duty returns. The move is designed to cover both cash and mortgage-based transactions.
The CSO said the new measurement "represents a significant methodological improvement over the existing RPPI (based on mortgage data from the credit institutions) as it includes cash purchases, higher quality source data and more detailed locational characteristics in the price model."
Property Industry Ireland (PII), the Ibec group that represents businesses working in the property and construction sector, said the house price data is masking an ongoing imbalance between the demand for housing and the supply of new homes, and an ongoing crisis in the rented sector.
PII Director Dr Peter Stafford said: "While today's house price data suggests the return to a benign housing market following the massive swings over the last decade, the housing crisis has not yet gone away.
"While house prices increased by 6.6% in the last year, rents grew by 10% in the same period.
"The displacement of the housing crisis into the rented sector is largely driven by the continued exodus of landlords and an increased cohort of tenants, many of whom are renting longer than they expected because of the deposit rules introduced by the Central Bank last year."