Brexit is already having an impact on economic confidence in Ireland according to the latest Economic Pulse survey from Bank of Ireland.
The survey, which covers July, shows businesses and households are more pessimistic about their financial situations following the vote.
The Bank of Ireland Economic Pulse stood at 91.2 in July, its lowest reading this year.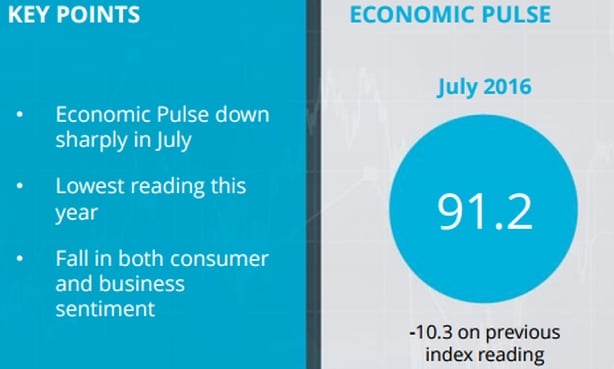 The index, which combines the results of the consumer and business pulses, was down 10.3 on June.
It also suggested a steep drop in sentiment across a range of sectors, with retail and construction companies seeing the sharpest drops.
The Business Pulse also fell to a 2016 low in July, coming in at 91.6 (down 11.1 on June's reading).
The retail and construction pulses saw very steep drops in July (-21.5 and -18.2 respectively), with sentiment among service firms also down (-9.0), less so among industry (-1.5).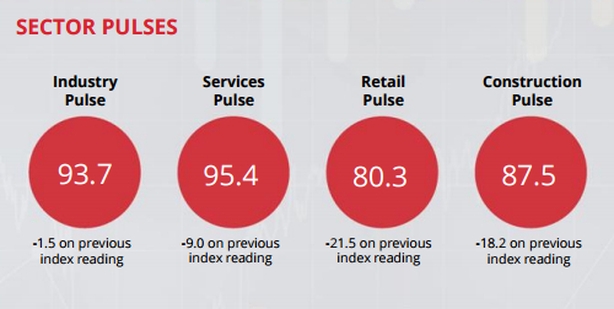 Firms in all four sectors pared back their assessment of business prospects and hiring plans for the coming three months, though looking further ahead, the majority have ambitions to grow their businesses over the next one to three years.
The July survey findings also indicate that 38% of firms in industry and services, 25% in retail and 35% in construction are planning on increasing basic pay in the next 12 months.
Consumers were also less optimistic in the month, with fewer respondents seeing now as being a good time to buy a big ticket item and a rise in the number expecting their financial situation to worsen over the next year.
The July surveys were carried out after the UK's Brexit referendum vote.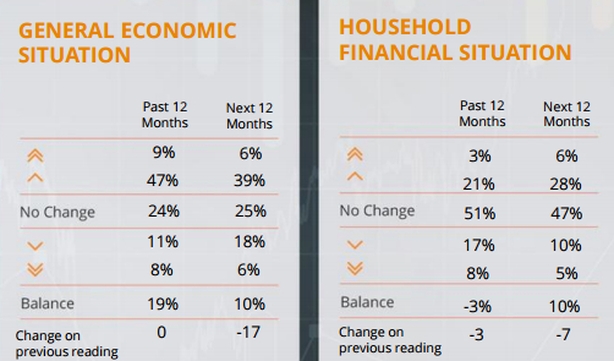 Commenting on the latest Economic Pulse, Group Chief Economist with Bank of Ireland Dr Loretta O' Sullivan said: "Brexit has generated a lot of uncertainty and, as expected, consumer and business confidence took a large hit in July. We will be closely monitoring the data to see if this is sustained over the coming months."
The Economic Pulse surveys are conducted by Ipsos MRBI on behalf of the Bank with 1,000 households and over 2,000 businesses on a range of topics including the economy, their financial situation, spending plans, house price expectations and business activity.
Strong drop in sentiment evident in border regions
Sentiment among consumers and businesses was down in all regions in July, led by Munster.
Expectations for business activity and hiring over the coming three months were softer, particularly in Connaught and Ulster.
The June surveys were conducted prior to the UK's referendum on the EU, whereas the July surveys were carried out post the vote to leave.