Debit card spending in Ireland during May reached €4.2 billion, hitting a five-month high, according to data from the Central Bank.
Just over €2.6 billion of this spending was through Point of Sale (PoS) activity, while the remaining €1.6 billion was accounted for by ATM transactions.
Debit card transactions have continued on an upward trend since the post-Christmas low of €3.4 billion in January.
In the same month, PoS spending on all credit cards amounted to around €876m.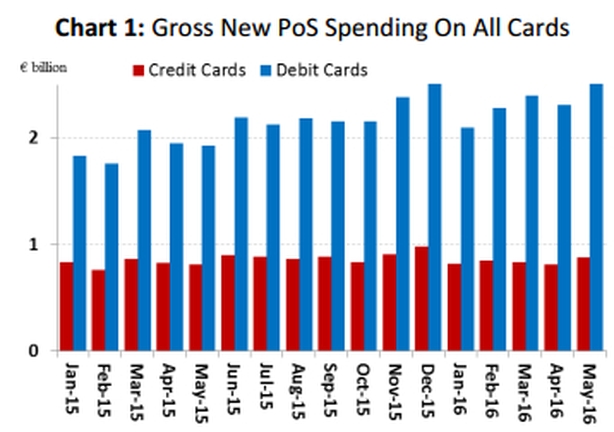 Meanwhile, online credit card spend increased by 30% to €379m between February and May.
Slightly over €1.2 billion of outstanding credit card balances included an accrued interest component.
Of this figure, 8% of cards have exceeded their credit limit while 36% had balances between 76 and 100% of their respective credit limit.
This proportion has remained virtually unchanged over the past year, although there has been a small increase in the number of personal credit cards in issue during the same period.
The value of new PoS debit card spending per month was almost three times greater for debit cards than for credit cards at the end of May.
The Central Bank figures said the majority of debit card expenditure occurs in the retail sector, where transactions valued over €1.3 billion were recorded in May.