New figures from the Central Statistics Office show that the General Government deficit came to €4.6 billion, or 1.8% of GDP, last year.
This was an improvement on the 2014 position of €7.2 billion, or 3.7% of GDP.
The CSO said the improvement was mainly due to two factors - an increase of over 7% in Government revenues which rose from €65.8 billion to €70.6 billion; and a substantial increase in GDP in 2015.
Figures released yesterday by the CSO show that GDP grew by an enormous 26% in 2015, on the back of aircraft purchases, corporate restructuring and companies re-locating assets to Ireland.
The CSO said today that the increase in revenues last year was partially offset by an increase of €2.2 billion in expenditures.
Government revenue growth last year was mainly boosted by increases in tax and social contribution revenues, which were partially offset by reductions to investment income.
The CSO said that some €4.3 billion was raised in additional taxes in 2015, comprising €3 billion of direct taxes and €1.3 billion of indirect taxes.
It also said the increase in expenditure was mainly due to a once off capital injection expenditure which arose when the Government converted part of its holdings in preference shares in AIB to ordinary shares late last year.
The conversion of these shares is classified as Government expenditure.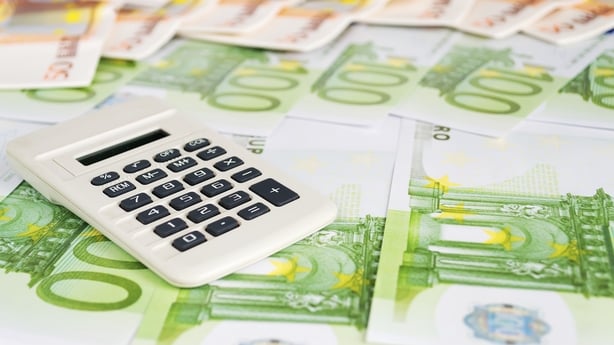 Meanwhile, separate figures from the Central Statistics Office show that the general Government Gross Debt increased by €5.5 billion to stand at €206.8 billion, or 80.4% of GDP, in the first three months of this year.
This compares to a debt level of 97.1% of GDP the same time last year and the decreased was due to those higher GDP figures.
Today's CSO figures also reveal that the general Government Net Debt rose to €173.3 billion or 67.4% of GDP at the end of March 2016.
This represented a worsening of the net debt level of a year earlier which had stood at €167.2 billion.
The CSO said this was mainly due to the combination of a reduction in assets after the sale of shares held in a some of the banks during 2015 and a net increase in the issuance of debt securities in the intervening period.
The Government also saw a deficit of €1.471 billion - or 2.3% of GDP - in the first three months of the year.
This compared to a deficit of €2.331 billion (3.8% of GDP) the same time last year and was due to a combination of increased revenues and reduced expenditures.