British luxury goods brand Burberry, which announced a management shake-up this week as it seeks to overturn falling profits, said it expects a post-Brexit drop in the pound to boost its earnings this year.
The group known for its camel, red and black check design, incurs about 40% of its costs in Britain.
But it makes only 10% of its sales in its home market and more than half of those come from foreign tourists in London, analysts estimate.
The company said its adjusted profit for the year would be boosted by about £90m if exchange rates remain at current levels, compared with a previous forecast of £50m.
The pound has fallen to 31-year lows since the UK voted on June 23 to leave the European Union.
Burberry's sales in Britain picked up in its first quarter - to the end of June - but chief financial officer Carol Fairweather said it was too early to assess any impact of the Brexit vote on demand.
"In the UK, our home market, we did see a strong performance increasing throughout the quarter, so it's far too early to call about what it may mean in terms of UK trading," Fairweather said.
"Short term, there's probably no discernable impact on our operations globally. (But) we are calling out today that we do benefit from the movement in foreign exchange rates on our reported profit," she added.
Mindful of recent currency movements, analysts expected adjusted pre-tax profit for the full year of about £413m before today's update, a level Fairweather said she was "comfortable" with.
That marks an upgrade from May when the group said it expected annual profit to come in towards the bottom end of forecasts, which ranged from £375-449m.
Burberry's shares, which rose to 12-week highs after the group announced on Monday that creative director Christopher Bailey will step down as CEO next year to focus on being creative director, jumped another 5% after the company's trading statement today.
Shares in the 160-year firm had fallen 24% over the past year as investors fretted about slowing global demand for luxury goods, particularly in China.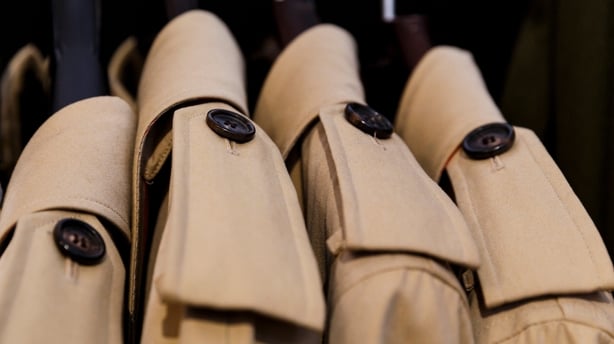 On Monday the group, which saw profits fall 10% in the year to March to £421m, announced that Marco Gobbetti, the Italian boss of LVMH brand Celine, will replace Bailey as CEO some time next year.
Fairweather will also step down by the end of January.
The group saw like-for-like sales in Britain grow by a single-mid percentage in the quarter to June 30, it said in its trading statement, partly offsetting depressed trading in continental Europe, particularly France and Italy.
Sales in Britain picked up towards the end of the quarter, Fairweather said, covering the days before and after the vote on membership of the EU.
The group remained cautious about global demand.
"The external environment remains challenging and underlying cost inflation pressures persist," it said.
Hong Kong, one of its biggest markets in Asia, continued to be tough, it said, and demand in the Americas was uneven, resulting in an overall 3% drop in like-for-like sales in the second quarter.
However, that was an improvement on the previous quarter and better than analysts expected. A 3% contribution from new stores resulted in flat retail sales of £423m.