British budget airline EasyJet has warned on third-quarter profits, blaming the strike action by French air traffic controllers, congestion issues at Gatwick airport and severe weather.
Europe's second biggest low-cost carrier also cautioned that additional economic and consumer uncertainty was likely this summer following Britain's decision to leave the European Union in Thursday's referendum.
Shares in the airline, which closed on Friday down 14% after hitting a two-and-half-year low, were trading another 9.3% lower in London trade.
Cantor Fitzgerald analysts cut their 2015-16 pretax profit forecast by 14% to £633m following the update, and downgraded their recommendation to "hold" from "buy".
EasyJet said the disruption in May and June, together with the Egyptair tragedy, had resulted in 1,061 cancellations and a drop off in consumer demand, hitting third-quarter profit before tax by about £28m.
The airline is now forecasting that third-quarter revenue per seat at constant currency will fall by around 8.6%compared to the 7% decline guided at its half year results in May.
EasyJet said as a result of the uncertain outlook after the Brexit vote it expected revenue per seat at constant currency in the second half to be down by at least a mid-single digit percentage compared to the second half of 2015.
It said recent movements in fuel prices and exchange rates were now expected to add around £25m of additional cost in the year to that guided in May.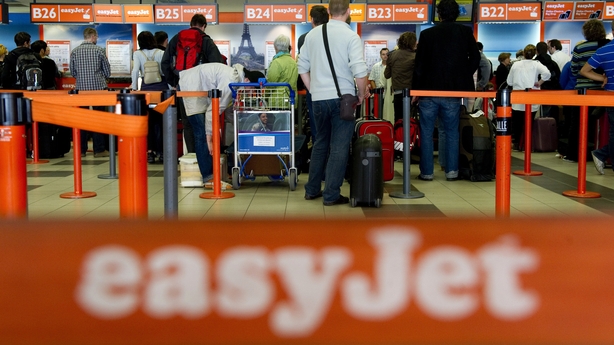 EasyJet was already facing an increasingly competitive market as larger rival Ryanair and others add capacity and low fuel prices help all airlines to cut fares.
In May, easyJet had said it expected to meet analysts' average forecast for the 2015-16 year of £721m.
The firm said it will update on current trading when it publishes third quarter results on July 21.