Sterling has made significant gains, while European shares continued to rally today on the back of renewed hope that Britain would vote to stay in the European Union.
The pound saw big gains against the dollar today, rising 1.7% to $1.46, one of its biggest rallies since the financial crisis. 
Sterling has now erased nearly all its losses from the past two weeks.
Meanwhile, shares in Paris, London and Frankfurt closed up between 3% and 3.7%, and shares in Dublin soared over 4.5% higher.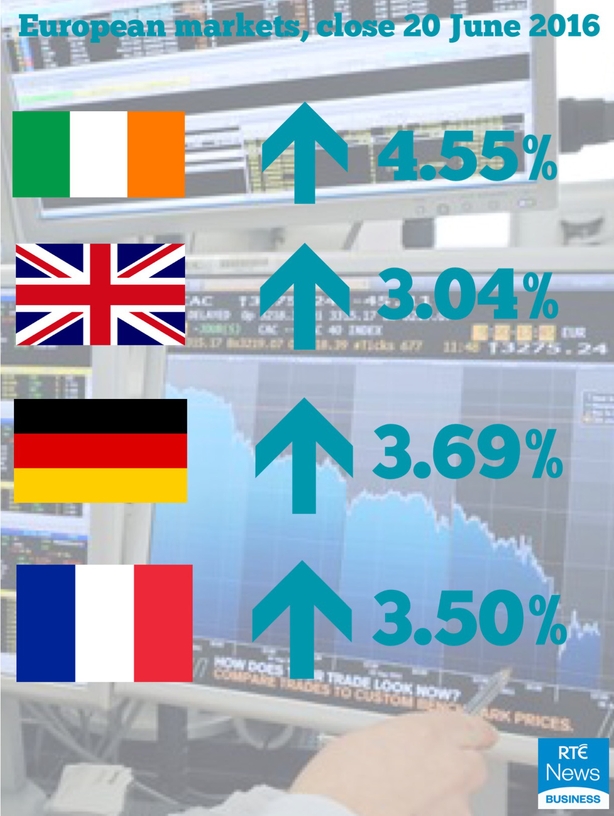 Among the big gainers in Dublin today were Ryanair, Paddy Power Betfair, and CRH.
Britain is due to vote on its European Union membership on 23 June. 
Opinion polls have been split, although bookmakers have given a greater probability towards Britain opting to stay in the EU, rather than leave in a "Brexit" scenario. 
Three British opinion polls ahead of the EU membership referendum showed the "Remain" camp recovering some momentum, although the overall picture remained one of an evenly split electorate.  
Asian shares were also higher in earlier trade today on those rising expectations that British voters will choose to stay in the European Union in a referendum this week.
Tokyo's Nikkei closed 2.2% higher, while the Hang Seng index in Hong Kong finished 1.7% higher.