Irish exports rose by €254m (+3%) to €9.24 billion between March and April of this year, according to latest data from the Central Statistics Office.
The CSO figures also show imports dropped by €565m (-11%) to €4.7 billion during the same period, leading to an €819m (+22%) increase in the seasonally adjusted trade surplus in April to €4.53 billion.
The value of goods exports for the first four months of 2016 was €36.43 billion, an increase of €770m (+2%) when compared with the same period last year.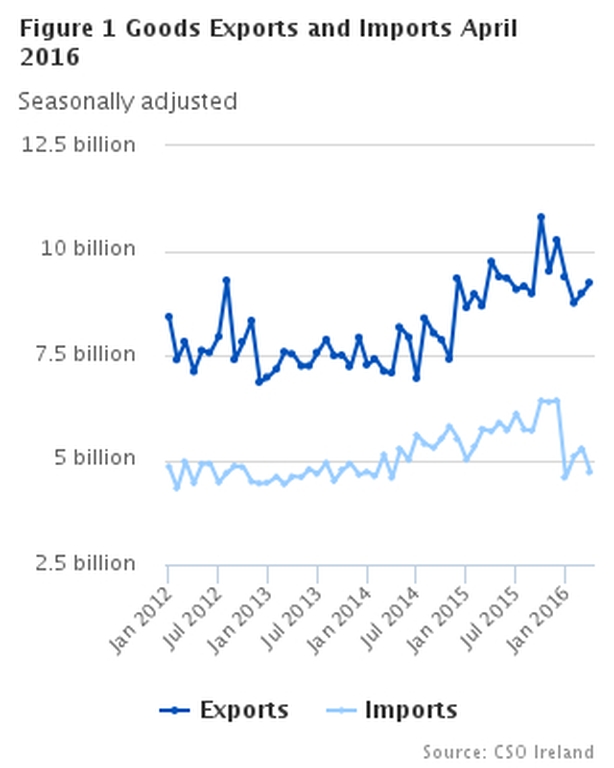 Exports of electrical items saw a significant monthly rise in April, increasing by €323m or 152% to €535m.
Meanwhile, exports of food and live animals increased by €44m (+6%) to €834m over the same comparative period.
However, exports of medical and pharmaceutical products decreased by €291m (-11%) to €2.44 billion.
According to the CSO, the level of imports into Ireland has fallen so far this year.
The value of goods imports for April this year was €4.6 billion, representing a decrease of €1.04 billion (-18%) when compared with April 2015.
The value of goods imports for January to April 2016 was €20.35 billion, a decrease of €2.12 billion (-10%) compared with the first four months of 2015.
Imports of machinery saw the biggest drop, showing a €119m or 52% decrease to €111m in April.
Mineral fuels, lubricants and related materials imports also decreased, falling €155m (-38%) to €255m.
However, vehicle imports increased by €65m (+26%) to €319m over the same period.
The EU accounted for half Irish exports in April with a value of €4.72 billion. €1.22 billion went to Belgium, and €1.01 billion to Great Britain.
The USA was the main non-EU destination for Irish exports in April, accounting for €2.42 billion (26%) of total exports.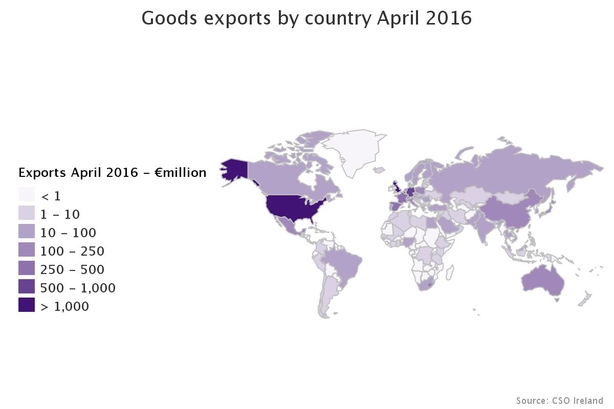 Meanwhile, the EU accounted for 62% of the value of goods imports in April, with €1.2 billion (26%) of total imports coming from Great Britain.
The USA with €563m (12%) and China with €303m (7%) were the main non-EU sources of imports.