Activity in the construction sector continued to rise in May, though at a slightly slower pace than in previous months.
The latest Ulster Bank Construction Purchasing Managers' Index showed a reading of 55.9 in May, well above the 50 mark that separates growth from contraction but slightly lower than the 56.4 reading in April.
Activity has now risen in each of the past 33 months, although the rate of expansion last month was the slowest since November of last year.
The survey showed that pace of growth in the commercial construction sector was higher in the month, but both housing activity and civil engineering grew at a slightly slower rate than in April.
There was also a dip in the pace of new business growth, while input prices continued to grow.
However there was another increase in the rate of employment, with construction firms once again growing their employee numbers during May, according to Ulster Bank.
It also noted that construction firms reduced their usage of sub-contractors for the second month in a row, although the contraction was only fractional.
The rate of cost input inflation rose again in May with companies reporting higher prices for raw materials including metals, as well as fuel costs.
Business confidence also dropped sharply last month, and stood at its lowest level in over two and a half years. However, sentiment remained strongly positive, Ulster Bank said, with over half of survey participants forecasting growth in activity over the coming 12 months.
Ulster Bank's chief economist Simon Barry said that a slowdown from the record rate of expansion seen in February was probably inevitable, but it would be reassuring to see some stabilisation in the growth rate in coming months.

"The overall picture is one of solid improvements, albeit with less spectacular rates of growth than were seen in the first quarter of the year," he added.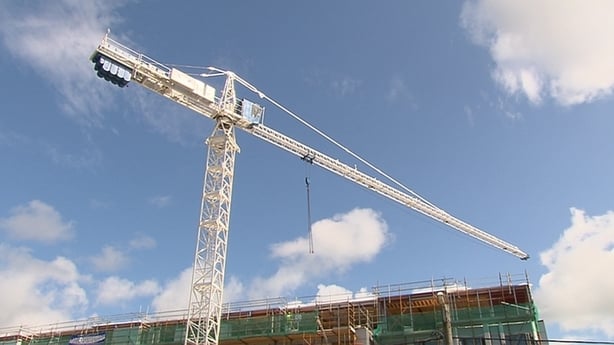 Meanwhile, a new survey from PwC shows that the rate of revenue growth amongst construction firms is expected to be somewhat lower than last year.
But the PwC Construction Industry survey also reveals that confidence remains high amongst Irish construction bosses, despite the uncertainty that Brexit is causing in the industry.
69% of firms plan to increase their headcounts in the coming year, while 59% of building firms predict their turnover will grow by over 10%, down from 64% last year.
Construction companies taking part in the PwC survey also said that the lack of skills remains a key challenge as does securing project finance.
"The survey suggests that while Ireland's construction industry is in expansionary mode with positive plans for growth, revenue expectations are somewhat less than last year," commented PwC's Ronan MacNioclais.
"While some challenges are easing-up, factors holding it back are the skills gap, available finance and for those who are exporting, external uncertainties such as the possible impact of the upcoming vote on a British withdrawal from the European Union," he added.