The European Central Bank is ready to use all tools, starting with its currency swap lines with the Bank of England, if Britain votes to leave the European Union and shocks financial markets.
This is according to ECB rate setter Ilmars Rimsevics.
With Britain's EU membership on a knife edge, investors have been fretting about the possible impact on currencies, banks and the financial system at large if Britons vote to leave the bloc at a referendum on June 23.
Rimsevics, who sits on the ECB's decision-making body and heads the Latvian central bank, said the ECB would be ready to step in if needed.
"All the necessary tools are at disposal of the European Central Bank at the moment and, if it is necessary to use them, then the European Central Bank will use them," he told a news conference.
ECB President Mario Draghi said last week the ECB was ready for any outcome from the referendum and hoped Britain stayed. But he declined to elaborate on what the banks had done to prepare for a "Brexit".
The ECB is already buying €80 billion worth of assets every month, keeping interest rates at a record low and giving banks ultra-cheap loans to support growth in the euro zone.
The ECB and the Bank of England have had swap lines in place for years, allowing UK banks and clearing houses to borrow in euros from the Bank of England and vice versa.
These emergency facilities are designed for times of stress, when firms may struggle to source foreign currencies from private lenders.
Rimsevics said they could be used if the UK vote sends shockwaves through currency markets.
"Especially if it (the result of the referendum) is negative and there is some kind of necessity, there are some kind of shocks, then, of course, all those lines will operate," he said.
Sterling has been on a roller-coaster in recent weeks and the cost of insuring against further swings has soared as investors fear a sharp selloff if Britain decides to leave.
Schaeuble says can't rule out others quitting EU if Britain does
Meanwhile, German Finance Minister Wolfgang Schaeuble told German news magazine Der Spiegel that he could not disregard the possibility of other countries quitting the European Union if Britain decides to leave the 28-member bloc after the June referendum.
"You can't rule it out," Schaeuble was quoted as saying by the magazine in an advance excerpt of an interview due to be published on Saturday.
"How would the Netherlands, which has traditionally been very closely allied with Britain, react, for example?"
Polls suggest a neck-to-neck race between the "Leave" and "Remain" camps ahead of the vote.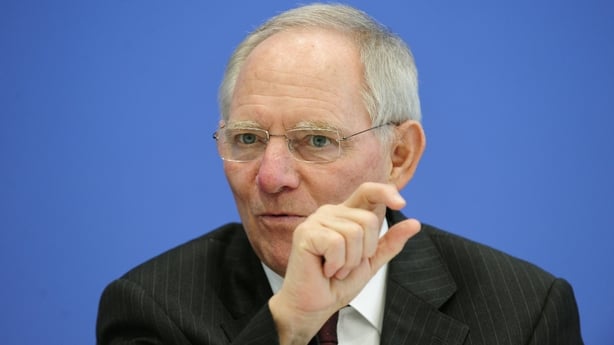 Schaeuble said that if Britain were to become the only country to leave the EU, he would not be concerned about the bloc's continued existence: "If need be, Europe would work without Britain."
He said calling for more integration in the EU - as some European politicians have done - was no answer to a Brexit.
He said that even if a slim majority of Britons voted to quit the EU, "we need to understand that as a warning and wake-up call to not continue doing as we have done up until now".
Schaeuble warned Britain it could suffer economic consequences if it quits the EU given that it is closely interlinked with partner countries, the magazine said.
"It would be a miracle if Britain quitting does not have any economic disadvantages," Schaeuble was quoted as saying.
He said a Brexit could also have a negative impact on partner countries but he and his counterparts in the euro zone would do all they could to limit these consequences: "We're preparing for all possible scenarios to limit the dangers."
Schaeuble ruled out Britain being able to continue to benefit from the European single market like Norway or Switzerland if it quit: "For that the country would need to stick to the rules of the club that it now wants to quit."
He said Brexit would be a decision against the single market: "In is in, out is out."