The cost of car insurance increased by 35.5% over the past 12 months, according to the May inflation figures from the Central Statistics Office.
Home insurance rose 9.9% over the past 12 months to May while the cost of health insurance rose by 6.5% over the same period, the CSO added.  
The CSO said the rate of inflation was flat last month compared to the same time last year as price increases in motor and health insurance, education and eating out were offset by lower prices for petrol and diesel and furniture and home furnishings.
On a monthly basis, prices rose by 0.5% in May compared to a 0.2% rise in April.
The CSO said that prices for miscellaneous goods and services - including motor, health and home insurance - rose by 5.6% on an annual basis.
Meanwhile, education costs were up 3.8% on the back of higher third level costs while prices in restaurants and hotels rose by 2.1% due to higher costs for accommodation and more expensive drinks and meals in pubs and hotels.
Motor, home, and health insurance costs have risen significantly in the last 12 months, according to new CSO figureshttps://t.co/N3Ql5g4D43

— RTÉ Business (@RTEbusiness) June 9, 2016
However, transport costs fell by 5.3% due to lower petrol and diesel prices, as well as a fall in the price of cars and cheaper air fares.
Prices for furnishings,  household equipment were down 3.1% while the prices of some everyday foods - including meat, chocolate, milk, cheese, eggs, bread and cereals - were 1.1% lower.
The harmonised index of consumer prices (HICP), which strips out mortgages, also rose 0.5% on the month but remained 0.2% lower than a year ago, the CSO said.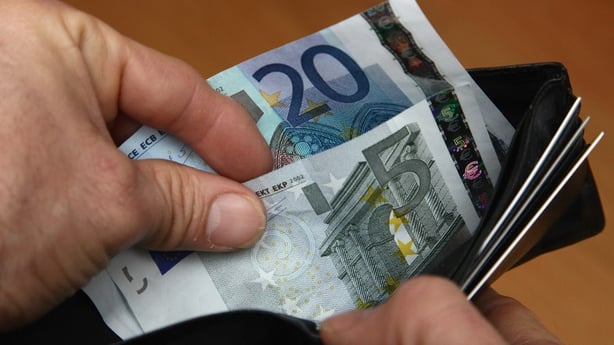 Commenting on today's figures, Merrion economist Alan McQuaid said that despite the booming Irish economy, inflationary pressures as measured are likely to remain fairly well contained in the immediate future, mainly because of low food and energy prices. 
But the economist added that he believes the cost of services like insurance and education look set to continue to rise. "We are not convinced that consumers think that inflationary pressures are as weak as the headline CPI numbers suggest," he added.
"Ireland's average inflation rate was -0.3% in 2015, compared with 0.2% in 2014. At this juncture we are looking for only a modest overall increase of 0.2% in the CPI in 2016, with the services sector the main source of upward pressure," Mr McQuaid added.