Home Retail's Argos has reported its best quarterly sales performance in two years, indicating the distraction of a yet to complete takeover by supermarket Sainsbury's has not damaged trade. 
The firm said Argos' total sales rose by 2.6% to £868m in the 13 weeks to May 28, its fiscal first quarter, with sales at stores open over a year up 0.1%. Gross margin did, however, fall 1 percentage point. 
Argos said television sales bounced back after a tough year thanks to this month's Euro 2016 football championship as well as strong sales of 4K TVs as households upgrade to the new technology. 
It said best-sellers during its first quarter also included mobile phones, computers and tablets, while the group saw strong demand for furniture and sports goods. 
But seasonal products were hit by the colder spring weather, while it also saw a drop in sales of white electrical goods, such as fridges and dishwashers.
"Argos delivered good total sales growth together with positive like-for-like growth, representing its strongest sales growth performance in eight quarters," Home Retail's chief executive John Walden said. 
He noted the outcome was achieved against the challenging backdrop of constrained seasonal product sales due to poor weather, on top of a deflationary pricing environment. 
Home Retail agreed a £1.4 billion takeover deal with Sainsbury's in April.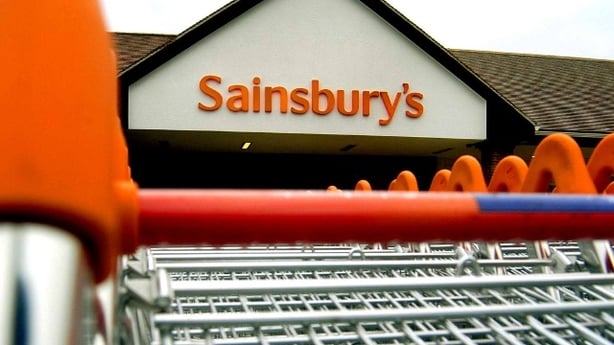 The transaction is currently being considered by the UK competition regulator, which said last month it would decide by July 25 whether to launch a full investigation. 
Walden said Home Retail was on track to complete the deal in the third quarter of 2016. 
"Given the natural distraction that a transaction such as this can be for our colleagues, I am particularly pleased with our performance in the quarter," he added. 
The group also revealed it may need to put aside around an extra £30m after wrongly collecting too much in late payment fees from store card customers after discovering the issue was more widespread than first thought.
But it said this impacted less than 10% of Argos card customers and those affected would receive compensation of "double digit pounds". 
"It's not a material number of customers and not a material amount of money per customer. "But for each customer it matters. We will address it and treat customers fairly," the company's CEO said. 
The firm expects to write to affected customers over the next few weeks.
The group had already put by £17m in its previous full-year results to cover charges, including the store card payment errors and redress for mis-selling of payment protection insurance.