In a survey of 20 countries most exposed to a potential UK exit from the EU, Ireland, Luxembourg, Malta, and Cyprus are most susceptible to any trade and migratory aftershocks of a Brexit.
The Standard & Poor's Brexit Sensitivity Index (BSI) measures goods and services exports to the UK compared to these economies' domestic GDP, bidirectional migrant flows, financial sector claims on UK counterparties, and foreign direct investment in the UK.
S&P Global Ratings Credit Analyst Frank Gill said: "According to this methodology, Ireland and other small open financial centres lead the list of sovereigns vulnerable to a UK decision to exit the EU.
"Of the 20 sovereigns most exposed, only two, Canada and Switzerland, are not EU members, and just one, Canada, is not European," he added.
The S&P index measures the current real and financial economic links to the UK economy, the world's fifth largest.
It also shows which countries might be more exposed to an unwinding of the UK's standout macro feature: its current account deficit of 5.2% of GDP, which is the world's second largest in absolute terms at an estimated €130 billion.
"A rapid unwinding of an external imbalance of this scale, alongside currency volatility, would not take place without affecting the UK's most important trading partners, and its most important creditors," Mr Gill said.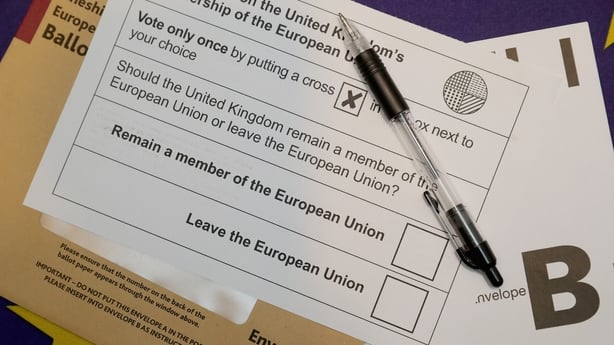 Meanwhile, financial markets may be underpricing the risk of Britain leaving the European Union, only two weeks before Britons vote in the eagerly awaited referendum, the world's largest asset manager Blackrock has said.
"There might be a little bit too much complacency," Owen Murfin, co-lead manager for global bond strategies at Blackrock told reporters at a briefing in London.
"I would think that Brexit probably should be seen, in the context of the near term, as a bigger deal.
"We've got to be careful ... and with equity markets very close to their highs I think it might be sensible to take a bit of risk off because the outcome is very uncertain," Mr Murfin said.
Earlier, a Dutch government think tank warned the Netherlands will be hit hard if Britain leaves the EU, predicting a possible 1.2% fall in GDP by 2030 and a €10bn trade loss.
"If the UK withdraws from the European Union it will affect the Netherlands more severely than other EU countries because of the strong trade relations," the economic policy Central Planning Bureau said.
The drop in trade "could amount to a GDP loss for the Netherlands of 1.2%, or €10 billion, by 2030".
And the effects could be even further heightened by less innovation which "could amplify the GDP loss of €10 billion by another 65%," it added.
"If the UK were to withdraw from the EU, this would be followed by a period of uncertainty which would lead to direct economic losses," the think tank, which advises the Dutch government, said.