The Irish retail grocery market has grown by 3.8% in the last year, while SuperValu retains the largest share of any supermarket.
New figures from Kantar Worldpanel - covering the 12 weeks up to 24 April - show increasing competition among the main grocery retailers as shoppers are visiting stores more often.
In the three months to the end of April the average household made 63 separate trips for grocery items, an additional four trips compared with the same time in 2015.
Kantar Worldpanel said this trend is linked to a reduction in the overall size of the average grocery trip – which has dropped from €22.40 last year to €21.60 so far in 2016.
Meanwhile, SuperValu remains the largest supermarket in Ireland, with a 23% share of the market after recording a year-on-year sales increase of 2.8%.
Commenting on SuperValu's growth, Director at Kantar Worldpanel David Berry said: "Most recently the retailer has launched its 'Good Food Karma' campaign, which aims to inspire the general public to cook from scratch using fresh ingredients.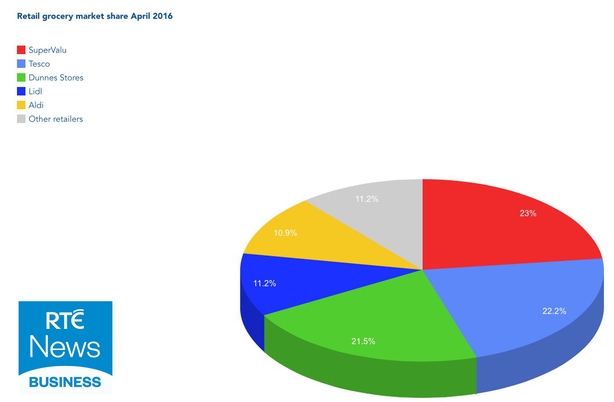 "The retailer saw strong growth across fresh staples in the past 12 weeks as a result: sales of fruit, vegetables, meat and poultry all saw healthy increases."
Tesco is in second place, with the retailer's share of the market standing at 22.2%.
Tesco has managed to sell more items so far this year but at a lower average price point – investing in low prices in a bid to win back customers.
This has led to a dip in the value of sales of 0.7%, however, volume sales have remained more positive, increasing by 2.7%.
Dunnes Stores has continued its recent strong performance, with sales growth of 8% helping it to a market share of 21.5% (third place).
Mr Berry said "bigger trips have been the main driver of this growth, with an additional €2.50 spent each time the tills ring compared with the same time last year".
The retailer's ongoing 'Shop and Save' campaign – where it incentivises shoppers to spend more each visit in return for money off next time – is attributed as a main driver of this growth.
According to Kantar World Panel, Lidl has maintained its position as the fastest growing retailer with an additional 43,000 shoppers visiting the grocer in the 12 weeks to 24 April.
Lidl's market share now stands at 11.2%, while Aldi has seen growth of 1% to bring its market share in Ireland to 10.9%.