Global airlines should make more money than previously expected this year, the International Air Transport Association (IATA) said today, helped by low oil prices and work by airlines to fill planes and drive ancillary revenues.
IATA said it forecast net profit of $39.4 billion for the industry this year, compared to a previous $36.3 billion estimate, with more than half generated by North American carriers. 
That would be the fifth year of improving profits in a row, while the industry's return on capital is also expected to exceed the cost of capital for only the second time, a boost for investors. 
IATA head Tony Tyler said airlines had improved profits by becoming better at filling planes and driving extra revenues. 
Meanwhile, fuel is expected to represent just under 20% of expenses this year, down from a 33% high in 2012-2013. 
 
"Lower oil prices are certainly helping, though tempered by hedging and exchange rates. In fact, we are probably nearing the peak of the positive stimulus from lower prices," Tyler said at the association's annual meeting at the RDS in Dublin. 
However, the picture was mixed across the globe, with Latin American economies hurt by the fall in oil prices and the region's carriers seeing hardly any decline of fuel costs due to slumping exchange rates, Tyler added.
Overall, yields - how much a airline makes per passenger per mile carried - will drop 7% this year, but unit costs will fall faster, by 7.7%, IATA forecast. 
Tyler said profits were becoming more normal but there was still room for improvement. 
"It will, however, take a longer run of profits before balance sheets are returned to full health," he added.
Departing CEO says Malaysia Airlines on the mend
The chief executive of Malaysia Airlines, turnaround specialist Christoph Mueller, said he was confident the carrier was on the road to recovery.
But Mr Mueller was coy about his own next move ahead of his departure in September.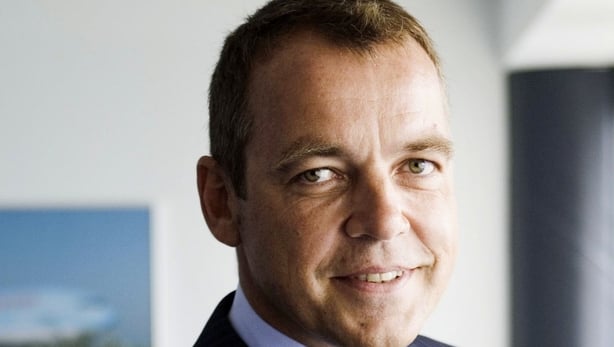 Mueller, who revived Aer Lingus when CEO between 2009 and 2015, said he wanted to stay in the industry but hinted he may have had enough of restructuring. 
"I've done these type of jobs now so many times, maybe I should do something else," he said in an interview on the sidelines of the annual International Air Transport Association meeting in Dublin. 
"I can go so far as saying it will be certainly aviation-related, but that's the only thing I can say. Stay tuned," he added.
Mr Mueller declined to elaborate on the reasons for his departure which Malaysia Airlines has said was due to "changing personal circumstances". 
The German was hired last year to nurse the airline back to health after it was left reeling when two disasters in 2014 - the disappearance of flight MH370 and the shooting down of flight MH17 over eastern Ukraine - compounded losses.
He launched a restructuring plan to cut a third of jobs, scrap some international routes, and renegotiate supplier deals, but his unexpected departure was announced in April and a successor has not been named.
Malaysia Airlines, which was taken private by Malaysian national investment firm Khazanah in 2014, was ahead of schedule in its plan to be sustainably profitable by 2018, its CEO said. 
As such, it is considering whether to expand its fleet by adding new long-range narrowbody aircraft, he said, adding a fleet plan was due to be published over the summer.
Mr Mueller said adding narrowbody, rather than widebody jets would better suit Malaysia Airlines because available capacity at its main hub airport in Kuala Lumpur meant it could use the new planes to fly more frequently on routes to China. 
"Instead of flying to a destination once a day with an A330 which is a widebody, we could fly twice a day with a smaller aircraft," he said. 
Frequent flights help to attract business travellers, who often like to hold meetings and return quickly, Mueller said.
The CEO declined to say which model of aircraft the carrier was considering.