Hibernia REIT has reported a pre-tax profit of €136.3m for the year to the end of March, an increase of 47% on the previous year.
The higher profits come on the back of a positive revaluation of some properties as well as the disposal of some non-core assets.
The company has proposed a final dividend of 0.8 cent per share, bringing its total dividend for the year to 1.5 cent, up from 0.8% the previous year.
Hibernia REIT owns a variety of commercial properties in Dublin, as well as a small number of residential units.
Among its properties are Cumberland House, Central Quay in Dublin's South Docks, Chancery Building and Forum Building and Guild House in the IFSC.
During the year, it invested €179m in nine acquisitions, which brought the total value of its portfolio to €927.7m.
The company has also announced that its pre-let agreement with Twitter relating to Cumberland House in Dublin city centre has been expanded to cover 101,500 square foot of space.
"The strength of the domestic economy together with low vacancy rates in Dublin gives us confidence, given a benign global economic backdrop, in the prospects for further rental growth," commented Hibernia REIT's chief executive Kevin Nowlan.
"Our portfolio is rich in opportunity and we have substantial undrawn facilities to move quickly on further acquisition opportunities, underpinning our confidence for the future," he added.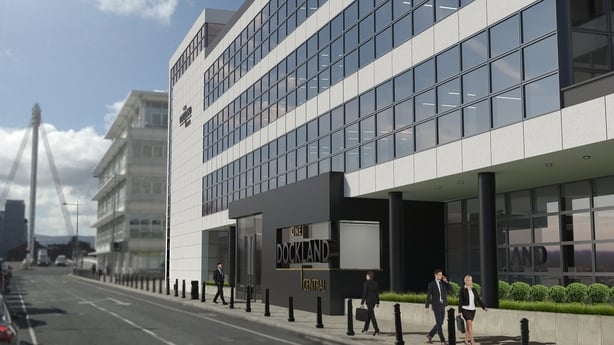 In today's results statement, Hibernia REIT said that prime Dublin office yields have remained stable at 4.65% for three consecutive quarters. Capital values for prime Dublin offices are up 24% year on year to over €1,200 per share feet, mainly driven by rental growth.
It noted that the Dublin office market, especially in the city centre, continues to be characterised by a shortage of available stocks in the right locations to satisfy high demand. The overall Dublin office vacancy rate is now 7.7% and 6% in the central business district.
Meanwhile, the Dublin residential market continues to show strong demand and insufficient supply. Last year saw 12,666 house completitions nationwide, with just 2,900 in Dublin.
Despite an expected rise in delivery levels this year and next year, the number of units are expected to be well below the estimated 30,000 units required a year, it added.