The Central Bank will work to the letter of a proposed law to hand it the power to cap mortgage interest rates if it is enacted, even though it has serious reservations over its impact, Governor Philip Lane said. 
A proposed law to hand the Central Bank the power to intervene in setting mortgage rates passed the initial legislative stage in the Dáil yesterday.
This was despite objections from the Government and the Central Bank. 
Governor Philip Lane has said he does not wish to be given such powers.
Last month he described a cap on rates as a "very crude instrument with many downsides," including potentially solidifying a lack of competition. 
"We don't think having legislative caps is the best way to ensure competition," Professor Lane said after delivering a speech at the International Capital Market Association's conference in Dublin today.
"But we will work not just to the spirit but to the letter of every law that comes in," he added.
Finance Minister Michael Noonan has said that the European Central Bank would be consulted on the bill in the next couple of weeks. 
Professor Lane, who is a member of the ECB's governing council, said consultation should start "as soon as possible so that there can be substantive engagement." 
Mr Noonan had threatened a similar cap on mortgage rates last year and most banks subsequently cut rates.
He said today he hoped AIB would follow up a rate cut announced last week with another "fairly soon". 
Meanwhile, Mr Noonan also told the ICMA conference today that new entrants are interested in entering the Irish mortgage market but they may hold back due to proposed legislation to hand the Central Bank the power to cap rates.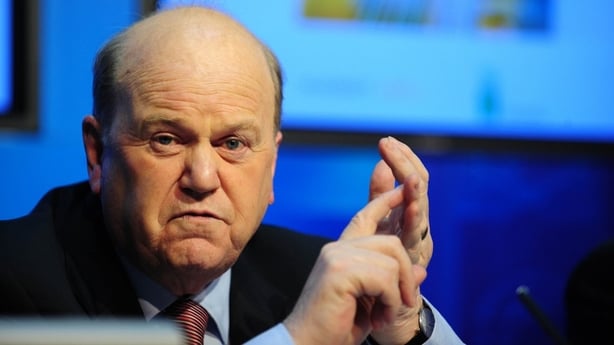 "There are conversations between outside providers and the Central Bank to be licensed to operate here but I think there'll be a tendency now to hold back until we see what happens with this legislation," Mr Noonan said.
The Finance Minister also said the pledge to sell no more than a 25% stake in any bank before the end of 2018 will not inhibit the Government's freedom to act and is just an acknowledgement that it will dispose in a controlled way. 
The Government's policy programme published last week signalled that it may take a more active role in the still mostly state-owned sector and potentially keep hold of bank stakes for longer than anticipated. 
"The provision in the new Programme for Government that we not sell more than 25% of any bank by end 2018 is just a formal acknowledgement that we intend to exit these investments carefully and in a controlled manner and it will not inhibit our freedom of action," Mr Noonan stated.