Thomas Cook said its summer bookings fell as security concerns meant more holidaymakers opted for breaks in Spain over Turkey, Tunisia and Egypt, outstripping its efforts to adjust flights. 
Despite shifting 1.2 million airline seats from the eastern to the western Mediterranean, the British travel operator said bookings were down by 5%.
It also cautioned that its full-year profit would now be at the bottom end of market forecasts. 
Thomas Cook's shares dropped 19% to a three-year low today as travel stocks fell after the disappearance of an EgyptAir flight. 
The company's chief executive Peter Fankhauser said Turkey, its second most popular destination last year, had not recovered as he had hoped after an attack on tourists in Istanbul in January. 
"This has had a particular impact on our German airlines business, which is the market leader into Turkey," he explained. 
The last update from Thomas Cook in March, which sent its shares to a previous three-year low, came on the same day as explosions in Brussels. 
Fankhauser said holiday bookings in Belgium had come "to a standstill" as a result.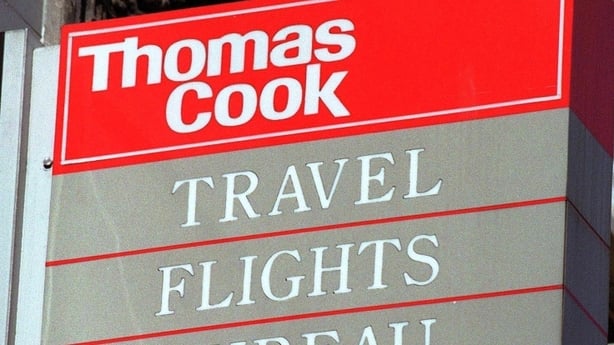 Thomas Cook shifted airline seats from Turkey, Tunisia and Egypt to the Canaries, Balearics and mainland Spain where it had found extra hotel rooms, but it was not enough to compensate. 
Holidaymakers could turn to Turkey at the last minute, Fankhauser said. 
"There is no late market in Spain, because Spain is filling up extremely fast, and then there may be a shift back into Turkey," he said. 
Thomas Cook's rival TUI said earlier this month its bookings were up 1%, with demand strong. 
"We are suffering a bit more (than rivals) because we are much bigger in Turkey than other competitors," Fankhauser said. 
"We are happy with the demand outside Turkey, we are up 6% if you take Turkey out," he added. 
Thomas Cook said operating profit for its year to the end of March 2017 would be between £310-335m. Analysts have forecast a range of £310-359m. 
First half revenue grew slightly to £2.67 billion, it said, and an underlying operating loss narrowed by 5% to £163m thanks to an improvement in margins. It said it continued to expect to pay a dividend this year.