Airports operator DAA has reported a 47% increase in profits for last year as overall passenger numbers increased by 14% to a record 27.1 million.
DAA said that profits rose to €61m last year while turnover at Dublin and Cork airports increased by 21% to €680m.
The company said the increase came on the back of record passenger numbers at Dublin airport and a 30% rise in commercial and retail revenues both in Ireland and in its overseas businesses.
Passenger numbers at Dublin airport rose by 15% to 25 million last year, but numbers at Cork fell by 3% to 2.1 million.
However, DAA noted that Cork passenger numbers returned to growth in the last quarter of the year on the back of new routes.
Describing Dublin airport's performance as "stellar", the company said that an extra 3.3 million passengers used the airport last year with 23 new routes and extra capacity on 40 existing routes.
"Dublin Airport is a key driver for Irish trade and tourism and the benefits of this additional traffic would have been felt throughout the economy", commented DAA's chief executive Kevin Toland.
The company recently announced plans for a new €320m runway at the airport, which will support up to €2.2 billion worth of economic activity.
Operating costs at the company last year rose by 18% to €333m due to the opening up of a new business in New Zealand and the full year impact of an acquisition in Cyprus.
Costs at the two Irish airports were also 8% higher as the company hired more staff to deal with the extra passenger numbers at Dublin Airport.
DAA's retail arm - ARI - operates in ten countries worldwide and also manages "The Loop" at Dublin and Cork airports.
Total sales at Dublin and Cork - including retail, food and drink sales by concessionaires - increased by 20% to €273m last year. DAA noted that average passenger spend rose by 12%.
ARI won new major contracts last year to operate duty free outlets at Auckland and Abu Dhabi airports and earlier this year retained its concession at Muscat airport in Oman.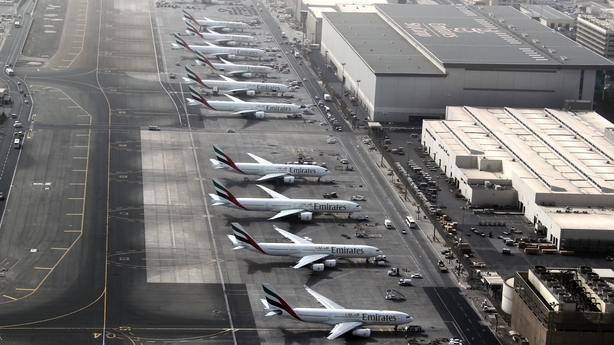 It also recently won a contract to operate a new domestic terminal at Riyadh's King Khalid International airport in Saudi Arabia. The new terminal will open on a phased basis this year.